'A view from the Kop' Liverpool 2-2 Young Boys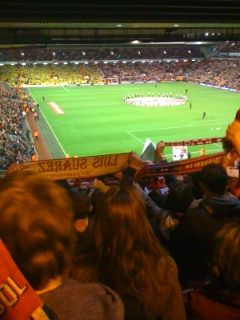 A cold night greeted the fans for this Europa league tie with the promise of a place in the next round should Liverpool win.
Young Boys had a colourful and voiciferous following which midway through the first half unveiled a huge 'Hillsborough Justice for the 96' banner- receiveing a standing ovation from every single Liverpool fan in the gound. A class act by a class set of supporters….
The Kop was in good voice as the game ebbed and flowed in an enjoyable first half- disrupted early on by the 'precautionary' substitution of Andre Wisdom. Jordan Henderson slotted in at right back, with Stevie 'G' in the centre of midfield. The deadlock was broken by an excellent move finished off by Jonjo Shelvey and started by the first half 'stand out' player- Suso.
The second half was as enjoyable as the first with some good football being played by both teams. Young Boys equalising with a wonder strike which Pepe could only pick out of the back of the net. Their fans erupted and at one point had the audacity to sing 'Who are Liverpool' whilst pointing at the Main Stand! The Kop responded with a plethora of songs, all sung with passion as the 'lighthearted' exchanges between both sets of fans continued.
Luis Suarez entered the game to a passionate and well sung  'just cant get enough'  and the tempo and expectation instantly increased. Then it came, another piece of good football and an excellent finish from the much maligned Joe Cole- who also had a very good game. This was it, surely we would go on and win the match now. Corner after corner peppered the Young Boys goal with the Kop trying to suck the ball in on a number of occasions.
Then, something happened. We sat back, we took our foot off the gas, and in doing so we invited Young Boys right back into the game. The tension returned, the 'air of inevitability' returned, and Young boys scored another 'wonder goal' in what was in fairness a deserved equaliser with only a couple of minutes remaining.
Their fans erupted again, the Kop fell silent. People rubbed their heads, others stared up into the Kop's roof for divine intervention. But it didnt arrive. We had one last attack, but it just wasnt to be.
Upon reflection a draw was maybe a fair result, but when it is in the dying minutes of a game at Anfield its always a bitter pill to swallow. The Kop stayed behind after the whistle to applaud both the players and fans of Young Boys for a spirited and passionate display. Credit should always be given where it is due.
Swansea next match Sunday in a game that id like to think we have enough in the locker to return to Liverpool with 3 points in the bag. We can only hope……. YNWA.
–Rushjob9