Time for Another Europa Thingy: Young Boys Preview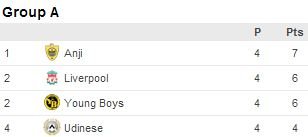 Well, this is awkward. Looking at the current standings for Group A in the Europa League, a number of scenarios could make progressing difficult for Liverpool. If Liverpool lose and Anji win, it will be extremely unlikely that the Reds will continue on to the knockout stages. However, if Udinese should win and Liverpool draw, then the entire table will be tied at 7 points. Now, that would be interesting.
The good news: the match is at home and our own Rushjob9 will be attending and offering his reaction afterwards.
The bad news: the squad is even thinner than it was in September when they last met the Swiss side and there is the added stress of a match with Swansea on Sunday.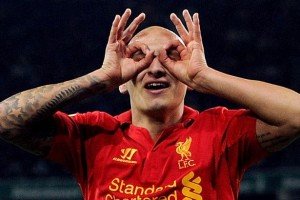 When the two clubs last met, it was an 8 goal thriller that saw the Reds gain a 5-3 victory over Young Boys. What made that victory possible was the substitutions used which included Jonjo Shelvey and Fabio Borini. The latter's movement created space and was the catalyst that opened up the defence. I do not think that Rodgers will start heavy hitters like Gerrard, Suarez, and Allen when there is an important match on Sunday, however, they will more than likely be on the bench and ready to play for the second half if needed. Oddly enough, Stewart Downing has had a decent Europa campaign and could well be in the squad after sources close to Middlesbrough have indicated nothing will happen before Thursday's emergency loan deadline. The 28-year-old has been told he could leave in January and his former club would like to bring him back to Teesside should they win promotion back to the Premier League. Middlesbrough him to be part of their battle back to the top flight, but it seems unlikely.
Lucas has been back at training, however, the current plan is for him to play on Friday with the U21s against Middlesbrough (ironic, eh?) rather than the Europa League match. The Brazilian has been working hard to get back into the team and now just needs to get up to match fitness. Jonjo Shelvey is a name that should be on the team sheet on Thursday. He leads the club in goals in the Europa League with 3, scoring 2 against Young Boys during their last encounter.
I'm not going to attempt to predict a full lineup because the upcoming schedule is a little difficult. Just three days after facing Swansea, the Reds will face Tottenham away, and then three days later will face Southampton at home. I certainly do not envy Brendan at a time like this because it is incredibly difficult to pick a squad with one eye on the next three matches. One thing is for certain: to ensure progression to the knockout stages, Liverpool must win on Thursday.
–CSD