Liverpool (0) Swansea (0): Rodgers Cancels Himself Out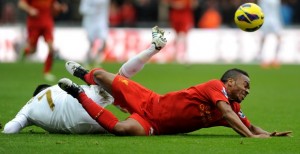 A scoreless draw between Liverpool and Swansea today at the Liberty Stadium comes as no surprise. It's been almost a whole calendar year since the Reds have recorded back to back league wins; playing to not lose takes it's toll when the draws pile up and we're left in a quagmire of missed opportunities. It's easy to peg today as one of those frustrating moments that will be quickly forgotten, but when Brendan Rodgers is managing both sides and can't sort out what to do with either one, it's a tad disconcerting. Last season we fell 1-0 to the Swans at the Liberty Stadium, so coming away with a point can be seen as an improvement, though you can almost forget that when it means that we'll be spending another week in the wrong half of the table.
Swansea boss Michael Laudrup has begun to put his mark on his new side, but the specter of former boss Brendan Rodgers still looms large in each fiber of the Jacks game — and, to be fair, that's hardly a bad thing. No reason to fix something that isn't broke and today, if drifted off into your own thoughts for a minute, you'd think he was managing both sides.
The proof comes in the possession with both teams sharing the spoils in a 50-50 encounter; you couldn't split them with a hair. The same patient passing game, pressure building in the neutral zones, frustratingly slow on the counter attack though quick to win the ball back. If you have they ball, they can't score — you can check off the boxes as the halftime talks followed the same narrative.
The Reds recorded 21 shots on net compared to the Jacks 17. They had 7 corners compared to our 6. Both sides finished with an impressive 85% pass accuracy; Swansea had 11 chances and Liverpool had 10, each had 3 chances from set pieces and 7 shots from outside the box. It's all a bit too close to call, isn't it?
Sterling hit the bar with a sublime volley, Enrique had a goal ruled out for offside, Jonjo's stinging low drive was denied in injury time and with a two on one break looking like the obvious breakthrough, Raheem over hit a return pass that would have sent Suarez straight in on net. Now switch sides — Ashley Williams had a header cleared off the line by former teammate Joe Allen, Wayne Routledge was denied at the near post, Michu had a handful of opportunities to close the gap at the top of the Premier League scoring table and, if it wasn't for a reaction save from Pepe Reina, a Pablo Hernandez free kick would have found the back of the net with some style. Both sides had chances and both would be left to rue those that went to waste; either team could have taken all three points without any level of surprise.
If the wasted chances spiel is getting old for you, it's only growing more frustrating to write for me. A single goal can be the difference in any match — that goes without saying — but it's these kind, where there's nothing between the two teams, finding one through any means necessary becomes paramount. Winning ugly is still winning and champions find a way more often than not. 8 matches without a loss is a great record to build on, but we need to find a way to do it faster than one point at a time.
-steven.
If you got something to say, have a go in the comments below or find us on Twitter or Facebook. We'll be around.
Stats courtesy of EPLINDEX.com