Liverpool (3) West Ham (2): All Conversions Half Price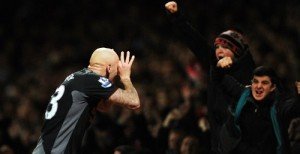 It was a day when West Ham United's famous academy came back to haunt them and Brendan Rodgers' Liverpool side got re-acquainted with a long lost friend: Lady Luck.
When Glen Johnson opened the scoring eleven minutes into the first half, three points for the Reds appeared to be the only outcome. A spirited fightback from the hosts saw them go in front when Joe Allen was harshly adjudged to have handled in the area and Steven Gerrard's first ever Premier League own goal gave Sam Allardyces side a deserved lead going into half-time. With Luis Suarez missing out through suspension and the Reds faltering at each turn, it was looking like par for the course at Upton Park. Then, out of nowhere, we're four points out of Champions League spot.
Save the first twenty some minutes, Liverpool weren't playing their normal game. Glen Johnson made it three goals in his last three meetings with West Ham when some fancy footwork ended with a thunderbolt past Jussi Jaaskelainen and it looked like the Reds were on for three points. The Captain was spraying the ball around at will, Raheem Sterling was terrorizing the flank and even stand-in striker Jonjo Shelvey looked lively in his unfamiliar position — then, the dominance, the possession, the chances that we've become so accustomed to creating — and subsequently wasting — stopped materializing.
Mohamed Diamé was running the midfield; even with a fit Lucas putting in work and Joe Allen nipping in and out between space, the Senegalese midfielder was dominating proceedings with his box to box runs and strength on the ball. Pushed back, penned in, nowhere to run or hide, the Hammers could smell blood — and it would come in a controversial fashion when Joe Allen blocked a ballooning Guy Demel volley at the edge of the area with his hands close to his body as he turned away from the shot. Although the ball would have eventually landed somewhere in Scotland, it made point blank contact with the Welshman's hand — and despite the harshness of it all, Lee Probert pointed to the spot.
If conceding such an unwarranted goal wasn't bad enough, Steven Gerrard turning a Matt Jarvis cross into his own net only a few minutes before the break put the Reds into a predicament it looked like they'd never recover from. Carlton Cole was holding the ball up well and creating space for the midfield to run into — it looked like another goal was soon to come until Mohamed Diamé pulled up injured. The introduction of Jordan Henderson — who was the catalyst in our midweek win over Italian side Udinese — for Lucas a few minutes before Diamé was stretchered off gave us an extra body moving forward and although the equalizer would come too quickly to put down to the Senegalese midfielders absence, the space that opened up with his departure would be one of the key reasons for the winner.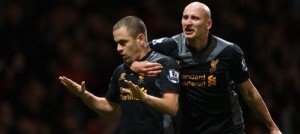 This would be the first time in nine attempts that Liverpool took all three points following a Europa League match; not only that, it would be their first back to back wins in the league and the first time they've come from behind to win since December of last year.
Joe Cole would put the Reds back on level terms when he slipped through the Hammers defense to latch onto a slippery Raheem Sterling pass. A precise, picture perfect finish into the bottom corner was reminiscent of the former Chelsea wingers glory days at Stamford Bridge; with the momentum shifted and the travelling Kop buoyed with the prospect of stealing a point at Upton Park, Jordan Henderson exploited the space down the right and whipped in a tantalizing near post cross. With Jonjo Shelvey battling for the ball, James Collins could only turn the ball into his own net and send the visiting fans into raptures. Three points on the road? Quite right.
A win like that has been a long time coming. It's not that often that everything works out like that; especially for this side. Some of the substitutions baffled, but each played their role in the win. Going behind at the half seemed like a death sentence until Joe Cole of all people pulled one back. Going to Upton Park without Suarez and playing Jonjo up front resulted in three goals. Has Brendan Rodgers flipped the game on it's head? Should we be setting up shrines, burning incense and chanting his name Hari Krishna style? Maybe it was luck, and even if it was, I'm still converting to whatever religion will spawn in the wake of this win.
It's too easy to get swept up in a wave a positivity; if you want to come back down to Earth, if only for a moment, you wouldn't expect us to have to claw our way into the right half of the table in December, but one get's a distinct sense that the tide is slowly turning. Sure, we were denied two stonewall penalties and had a soft one given against us — that's a grievance for another day. What we can say for sure is that we're on the move and ready to bully our way up the table.
–steven.
Got something to say? Want to weigh in? Have a go in the comments or find us in the social media jungle on Facebook and Twitter.