Sensibly Sizing Up Sturridge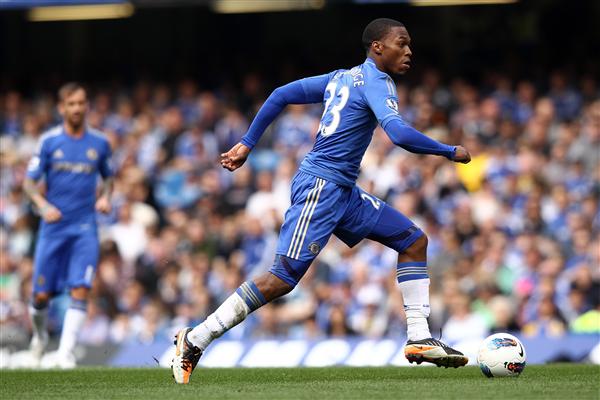 We all know that a transfer is never over, until it's over; never fully complete until the proverbial ink has dried. Until there are pictures of the new arrival being heartily backslapped by middle-aged men in tracksuits on an official website of some description, the entire process is still in motion. And whilever it remains in motion, Murphy's Law (anything that can go wrong, will) applies, and doubly so wherever Liverpool Football Club is concerned.
So with some trepidation, I begin writing about Daniel Sturridge, who has been strongly linked to Liverpool in many major newspapers over the past few days. Reporters appear to have been briefed that Liverpool are "extremely confident" of sealing a deal for the 23 year old forward, who found his playing time limited under ex-boss Roberto Di Matteo, and subsequently has not really been considered by the new man-in-charge at Chelsea. This leaves Sturridge presumably looking for regular playing time at LFC, a club who should also be able to accommodate his ambitions.
So with the whole affair seeming extremely likely (avert your eyes, Mr Murphy), what should we make of Daniel Sturridge? Is this a good move for LFC, or could we do better?
Many opinion pieces and countless twitter summaries of Sturridge and his relative merits have already swarmed across the internet, ranging from dismissive Euro-snobbery that judges him purely by nationality, right through to the hyper-optimistic assertion that Sturridge could be Liverpool's "missing link".
As usual, the truth lies somewhere between.
Whenever Sturridge has been entrusted a regular starting role by his manager (on loan at Bolton in 2010/11, and last season under AVB) he has responded with goals. His 8 goals from 12 appearances at Bolton, along with 11 more in 30 games last year, are a hint at what he is capable of.
Yet Sturridge has not proved anything yet. He may have earned 4 England caps, but at 23 he is yet to hold down a regular position at club level for any length of time. While he has featured in 96 Premier League games already, Theo Walcott, only 6 months older, has played 161 times, and has been a mainstay and regular contributor at Arsenal for a number of seasons. There is still so much for Sturridge to do.
When (or if, Mr Murphy) he arrives at Liverpool, the work is only just beginning. Daniel Sturridge will need to put his head down and prove he is a top player, that he can score goals alongside Luis Suarez, and that he can add conversion to a side that seems to have everything else.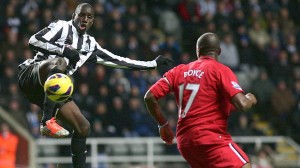 Could we do better? Certainly there are players who could add as much bite, if not more, for a lower price. Demba Ba, with his oft-quoted 7.5m release clause, is far closer to the finished article at 27 years old than Daniel Sturridge is. He finishes a higher percentage of his chances and would probably provide more goals initially than Sturridge could.
But to be worth the money, Ba would have to fit Brendan Rodgers' strategy – the long term one, not a short term one that would bring temporary joy without lasting substance. And for me, this is where the idea of a Demba Ba, Klaas-Jan Huntelaar or Wilfried Bony type centre forward falls down.
With Rodgers' clear and marked preference for an attacking trio, and his stated intention to play Suarez as the central creative fulcrum up front, any players coming in have to be able to play a wider inside forward role, at the very least on a part-time basis. Of the three strikers mentioned, only Ba plays wider with any regularity, and his shift to NUFC's left flank last season to accommodate Papiss Demba Cisse saw a severe reduction in his goal output.
None of those players would appear to have the speed, movement or technical ability on the ball to play the inside/wing-forward role that Rodgers wants. With promising Italian Fabio Borini due back in early February and youngsters Morgan, Yesil and Ngoo available for any emergencies (not to mention Jonjo Shelvey's ability to pinch-hit as a forward if the need arises) it seems wasteful to buy a senior centre forward that is not part of the manager's preferred first XI, nor his long term plans for the style and function of the team.
In this regard, Daniel Sturridge is a far better fit. He is pacy, has good movement, is comfortable in wide areas, but naturally moves into the box from the right hand side, is well-versed in possession-oriented play and has indicated that he can score goals when he's playing regularly. He could competently deputise as the central striker whenever Suarez is unavailable, and also dovetail with him effectively as a strike pairing if we ever decide to re-visit the "Back 3" formation we saw in action at Goodison Park. He seems like a far more natural fit for Brendan's blueprint than many of the "superior" players that have been suggested.
And speaking of Brendan's blueprint – recently Rodgers talked about having "three-and-a-half" goalscorers in the team, and looking at his Swansea team from the back half of last season, it is clear to see what he meant.
Striker Danny Graham top-scored with 10 Premier League goals, Scott Sinclair got 8 from Inside Left, Spurs midfielder Gylfi Sigurdsson hit 7 goals from Attacking Midfield (in only half a season!), while Nathan Dyer was the "and-a-half" man with 5 goals from the right.
If we look at our current PL scorers, Suarez has been the main man scoring 10 goals already, while Steven Gerrard is the only other player in the squad to score more than 1 goal. Of our inside forwards, Raheem Sterling has scored 1, Joe Cole has scored 1 and Jose Enrique, now seemingly returned to his fullback berth, also scored 1 during his brief stint on the wing. Assaidi, Borini, Suso and Downing are all scoreless.
This highlights our need for greater contributions from the inside forwards, of which really only 18 year old Sterling (who also has 5 assists) and redeployed fullback Enrique can claim to have had much success. It also clarifies the need for players like Sturridge and ex-LFC youth Tom Ince who is also reportedly set to re-join Liverpool in early January. Clearly in Sinclair, Dyer, Sterling, Sturridge and Ince, there are some common strengths and similarities, pace, technique and an eye for goal being the important ones. It would appear Brendan Rodgers has a "type" that catches his eye when it comes to wing-forwards.
Theo Walcott in the summer, anyone?
-Grubb