A view from the Kop: Liverpool 3-0 Sunderland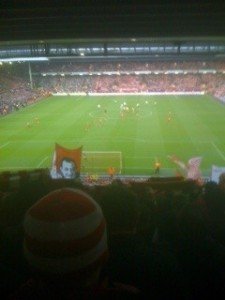 The first match at Anfield for 2013 was greeted with eager anticipation after a really good victory over QPR. Matches 'under the lights' always appear to have an extra edge to them from the walk to the ground, to a beer in the pub beforehand. Cant explain why, but I find them that little bit more exciting. The news of Daniel Sturridge signing also created a 'buzz' about the place and it made me smile to see a young boy walk past me with Sturridge on the back of his shirt- a new 'hero in the making' we hope!
The Kop was in decent voice as a rousing rendition of 'You'll never walk alone' was belted out pre kick off. The first 10 minutes passed without anything of note happening but it was evident that Liverpool were starting to 'click into gear'. Some of the passing and movement was excellent with the midfield being excellently marshalled by Lucas Leiva and Jordan Henderson- the latter having an excellent game.
Then a superb pass from 'Our Luis' set Raheem racing forward and what seemed like an eternity resulted in an excellent lobbed finish into the Sunderland net at the Anfield Rd end. Game on!. To be fair to Sunderland, they composed themselves quickly and created an excellent chance at the Kop end which should have resulted in a goal- chance missed.
We had been 'let off the hook'. And we knew it, because from that moment on we absolutely played Sunderland off the park with slick passing and excellent movement and understanding by all the men in red. Then the second goal came with 'Our Luis' holding off a foul challenge (rightly flagged by the linesman) before rifling an unstoppable shot into the far corner (much to the relief of the unmarked Raheem Sterling!)  Cue 'I just cant get enough' being sang by 3.5 sides of the ground. The Sunderland fans fell silent. The Liverpool fans were ecstatic.
We went in at half time with all in agreement that we could easily score a few more second half- much was our dominance.
The second half started as the first half ended, with wave after wave of Liverpool attack. As a team we looked so well balanced from the front to the back with Stewart Downing again having an excellent game. He really has improved of late and is starting to show the kind of form which resulted in him gaining many international caps over the years. Steven Gerrard was starting to show his return to top form spraying passes all over the park and making great tackles when called upon.
Then the 3rd goal came. And what a goal. An absolutely world class pass from Steven Gerrard to find 'Our Luis' who took it under control and produced an excellent finish right in front of the adoring Kopite's massed behind the goal. Celebration time. The Kop was in full voice now reeling off song after song all in celebration of a top drawer performance. We could have/should have scored more with a marginal off side called to cancel out what would have been substitute Joe Allen's first goal in red. 'Our Luis' had another couple of chances and you could see the pain etched on his face as he failed to complete what would have been a totally deserved hat-trick.
No complaints from the matchgoers- This truly was an excellent team performance throughout. The passing, the movement, the goals. The lot! It really was superb.
I was concerned with the nature of our defeat at Stoke. I was fed up, cos I thought a corner had been turned, then backwards we go. However, 'if' we can retain that level of play as as solid unit with all 11 players doing their jobs to such a high standard, then I feel we really can make great strides during 2013.
9 points out of 12 with 11 scored and 3 against over the Xmas period is a great return- If only we'd beaten Stoke! 🙂
Happy Days, Happy New Year to all of our readers, YNWA.