The Stag is Set: Mansfield Town FA Cup Preview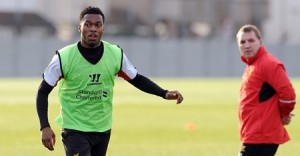 In the early rounds of the FA Cup, the narrative is always the same; the proverbial giant being killed. Postal stamp sized pitches, rickety old terraces, ruddy brown pitches, fanatical lower league fans crossing their fingers for a big payday and a trip to the next round — and then there's those who don't understand the romance of the Cup.
No, that wasn't a spelling error in the title. Mansfield Town — or the Stags as they're affectionately known — are ready for us. Not familiar with them? You're not the only one. The non-league side might seem like easy pickings for Brendan Rodgers men, but Liverpool have had their fair share of trouble with minnows in cup competitions before and although we'll be the bigger fish at Field Mill tomorrow, that won't mean anything unless we're ready to chomp down hard.
The Nottinghamshire club currently occupy ninth place in the Conference North with a +10 goal difference and are pushing for a play-off spot with 22 matches played this season. Despite this being the biggest game of some of the player's careers, they go into this one with no expectations or pressure hanging over their heads. Even though they're not expected to win, that doesn't mean that the Quarry Lane End won't be giving it a go as they try to rouse their side into scalping the giant.
Winger Louis Briscoe scored in the winner in the clubs second round replay with fellow non-leaguers Lincoln City to set up what's sure to be a massive test for the Stags. Goalkeeper Alan Marriott, who scored against Wrexham from his own penalty area last year, will be fit to play after navigating the previous round with an injury. Squaring off against last year's FA Cup runners up will be a challenge from the get go, but Paul Cox's side will be relishing every minute of it — no matter who Brendan Rodgers decides to play.
Early round FA Cup matches usually give the manager a chance to rest some of his key players and Luis Suarez and Steven Gerrard will likely be recipients of a little time off as a league match with Manchester United looms large next weekend. Raheem Sterling could also find himself on the bench with fellow youngster Suso filling in. Nuri Sahin, Jonjo Shelvey and Joe Allen could all feature in the middle of the park as Lucas is spared for next weekend's trip to Old Trafford Brad Jones could have Jamie Carragher and the scarcely seen Sebastian Coates standing in front of him.
The Uruguayan defender that showed so much promise last season has been the subject of some speculation with suggestions that he could be heading out on loan. With the pairing of Daniel Agger and Martin Skrtel keeping an iron clad grip on the starting eleven, chances have been hard to come by for Coates — though a run out in Mansfield tomorrow could be a great chance to remind us why he's here in the first place. Regardless of who starts at the back, all eyes will be at the other end of the park come kickoff after Daniel Sturridge completed his transfer from Chelsea earlier in the week.
Brought in for a fee believed to be around £12mil, the 23 year old striker could feature tomorrow if Brendan Rodgers decides to rest Luis Suarez. With Fabio Borini still injured and 18 year old Samed Yesil still a bit green, Sturridge could in the very least find himself occupying a spot on the bench as the boss looks to build his match fitness. Daniel hasn't played in Chelsea's shock 2-1 defeat to the Baggies in the middle of November, so doubts linger about whether or not he'll be up to snuff if called upon, but there'll be few better opportunities for him rack up some minutes in what should be a more relaxed environment.
And, as I finished typing that, I cringed a little. Overconfidence hasn't served us well in seasons past and a scare against non-league side Havant and Waterlooville at Anfield a few years back still rankles the nerves and should serve as a reminder not to take any team, regardless of their status, lightly. Mansfield Town may be a handful of places below us in the pecking order, but this is a still a match and one that needs to be won — whether you find romance in the Cup or not.
–steven.
Get social with our media and find us on Facebook and Twitter. There's also a comments section below if you're feeling particularly saucy and want to have a go.