I wish we could play Norwich every week, Match Preview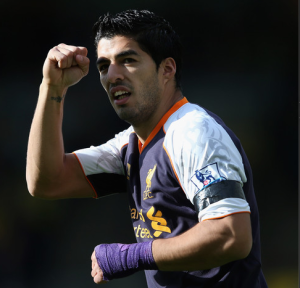 In the last two meetings between Norwich and Liverpool, Luis Suarez scored a hat trick. Not only a hat trick, but a hat trick on the opposing team's soil. Looking at this fixture last season though, Liverpool drew 1-1 when playing Norwich at home. Oddly enough it came on the heels of another Manchester United match. In that match, the Reds also drew 1-1.
The Canaries have been anything but impressive this season, yet sit only five points behind Liverpool. In the last five matches, they have drawn one and lost the other four. Liverpool seem to be growing stronger and more consistent as the season progresses. The addition of Daniel Sturridge and the return of Fabio Borini will buoy the front line. Rodgers mentioned that Sturridge was close to being match-fit so it would be no surprise if he should start as center-forward on Saturday. Borini, Sturridge, and Suarez showed moments of brilliance when all three were on the pitch together, though it was only for a short time.
Brendan Rodgers has proven himself to be a great tactician when it comes to adapting his team to fit the game as it progresses. One element that has been lacking though is a solid choice of starting lineup. For some reason, Rodgers never seems to get it right when it comes to his starting XI. Based on form and who is available, Allen, Sterling, and Downing should be left out in lieu of Henderson, Borini, and Sturridge.  The only questionable player out of the latter three would be Borini as it is unknown how close he is to match fitness. With a full week to train and 8 days until an FA cup match, one would think that the Italian could put in at least an hour shift against Norwich.
Liverpool's home form must also improve. The club has done well as of late, but when a team like Norwich City shows up at Anfield, they must be put to the sword to boost the confidence of both players and supporters. Suarez has set the bar high, netting three goals in the previous two fixtures against Norwich. All eyes will be on the Uruguayan to reproduce what we all know he is capable of. Norwich fear Suarez and will be out to stop him. That, however, might be the opportunity for other forwards like Sturridge and Borini to really shine. Sturridge can score and Borini's movement creates tons of space. The three of them together are going to be a handful for any opposing side once they have a little more experience together. Saturday's match against Norwich at Anfield is a great place to begin that understanding.
-CSD