Liverpool (2) Arsenal (2): One Point Gained Isn't Always Two Points Dropped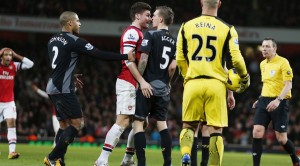 The most common narrative after your side give up a two goal advantage in the space of three minutes to have what looked to be an assured win turn into a draw is ultimately negative; when you're chasing a Champions League spot and your opponents sit a mere three points ahead of you, that negativity is compounded slightly.
Luis Suarez put Liverpool ahead in the opening five minutes when some shambolic defending allowed the Uruguayan to capitalize on a comedy of errors and Jordan Henderson would double the tally after the break with a dazzling display that left four defenders in his wake. Though we looked to be en route to full points, Olivier Giroud would pull one back through a close range header before Theo Walcott, only minutes later, restored parity from a tight angle. Euphoria quickly turned to shock as two points went up in smoke; compound negativity? We could do that, or we could remember that getting out of the Emirates with a point is a result in itself.
It was less than a week ago that we dropped out of the FA Cup at the hands of League One side Oldham Athletic. Again, the talk was all about the side's response to the less than acceptable performance and whether or not the resilience was there to put in a shift against Arsenal; it wasn't long before Luis Suarez answered that question for us.
An inexplicable slip from Bacary Sagna cancelled out a fluffed pass from Suarez and allowed Glen Johnson to run onto the ball. With more time than he should have been allowed, the England fullback was able to whip in a telling cross that took a bounce in the box before finding itself on the feet of Daniel Sturridge. You can't fault the youngster for not picking out Jordan Henderson at the top of the box and choosing to have a crack himself — when a striker has a clear shot at net, they should shoot — but with Wojciech Szczesny equal to the low effort, the ball would find its way to Henderson anyways.
Instead of trying to blast a shot from the top of the box, the resurgent midfielder opted to find Suarez, who found himself in one of those dangerous positions he fancies so much, and the Uruguayan added to his already impressive tally with a slightly deflected shot that Szczesny had no chance to reach. Arsenal almost equalized straight away through Theo Walcott, but the English wingers shot couldn't beat the returning Pepe Reina.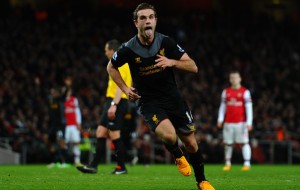 For every inch Arsenal gained going forward, they lost another at the back as the two sides traded blows; a first time shot from Daniel Sturridge rolled just wide of the post and Walcott, very much the danger man for Arsenal, forced Pepe Reina into a diving save, but it would be Jordan Henderson that would add the next real bit of intrigue into what was becoming an increasingly tense fixture.
The home side were getting sharper as the second half ticked on and Lukas Podolski had a penalty claim waived away after an Andre Wisdom challenge sent him to the ground. A foul from Lucas would give the German a chance to smash a free-kick into the solar plexus of Jamie Carragher — a surprise inclusion over Martin Skrtel — and with the team putting their bodies on the line at one end of the pitch, we'd be rewarded at the other when Henderson's perseverance paid out in spades.
A cross field ball from Luis Suarez would be tapped to Daniel Sturridge from Stewart Downing. A twist here, a turn there and a look up sees Henderson making a dangerous run and a perfectly weighted pass in finds the ball at the midfielders feet. You expected the youngster to then look for a pass, but a feint of the head and a jink of the body left him free to run into the box with three defenders in pursuit. Szczesny was off his line to aid in the effort and the youngsters first shot took a ricochet off one defender before bouncing off Santos and back into the path of Henderson. Sagna was in to make a last ditch tackle, but it was too little, too late as Liverpool doubled up on their lead.
Aaron Ramsey would shoot over and Podolski would blast wide as the pressure mounted and finally the home side's patient intensity paid off when Glen Johnson fouled Theo Walcott in a dangerous position. Olivier Giroud would be on hand to nod home a Jack Wilshere free-kick and unsettle the Liverpool backline long enough for Walcott to reap his rewards. The English winger had been heavily linked with a move to Liverpool before signing a new long term contract at the Emirates and Brendan Rodgers got a glimpse of what could have been when Giroud laid the ball off for him to smash home before Pepe Reina had time to react.
Arsene Wenger's men would look for the kill through Santi Cazorla who flashed a shot across the face of goal and a Podolski cross would slip away from Giroud who had a chance to play the hero with the goal gaping. Suarez would give it one last push when he forced Szczesny into a fine save, but the points would be shared between the two sides and if given that opportunity before the match, there are few Liverpool supporters who wouldn't have snapped up that offer.
Saying we threw away the points discounts almost the entirety of the second half where Arsenal showed us piece by piece how to react to going behind. While we stuttered and stalled at Boundry Park, they regrouped, reorganized and took the chances they so painstakingly fought for. Resilience is key and we showed that by bouncing back from the embarrassing loss to race ahead to a two goal lead at the Emirates Stadium; though it's a shame we couldn't hang on for full points, it's another lesson learned and one we'd do well not to forget when we face off with the reigning Champions on Sunday.
–steven.
Do you fancy taking advantage of some free bets offers ahead of this weekends fixtures? Come and check out www.bookmakers.co.uk today
We got that Facebook thing. We're on the Twitter. You can say something in the Comments or you can spread the love on your social media site of choice. So many options, so little time!