Jamie Carragher to Retire at End of Season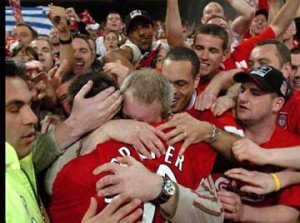 After more than 700 senior appearances, Liverpool legend Jamie Carragher has made the decision to retire at the end of the season. The 35 year old defender, who is out of contract in the summer, will leave the pitch to join a pantheon of ex-players revered the world over by the Reds supporters and although no official announcement has been made regarding his future, it is expected that he will continue on with the club in a new capacity.
A mainstay in the Liverpool defense since the days of Gerard Houllier, Jamie has taken in a significant haul of trophies during his Reds career — one Champions League, one Uefa Cup, two FA Cups, two Super Cups, two Community Shields and three League Cups – and it's that kind of experience that can prove invaluable as manager Brendan Rodgers looks to mould a young team into a side that can take home the one piece of silverware that Jamie never got his hands on: the Premier League trophy. In keeping with Carragher's wishes, the club will not announce any future role for the Kop hero until the end of the season.