All Eyes on Europe: Zenit St. Petersburg Preview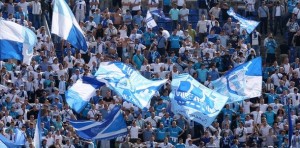 Right around this time last season, we were looking forward to the League Cup final against Cardiff City and were alive and well in the FA Cup. Sometimes, the more things change, the more the differences are evident.
Without the "distraction" of European football, we weren't exactly flourishing domestically, but we were in the hunt for some silverware. This year, without the "distraction" of the domestic Cups, we have Europe calling. Either way, we weren't qualifying for the big show and our hunt for Champions League qualification was dealt another major blow on Monday night when two late West Bromwich Albion goals turned us over at Anfield and, with no time to regroup, left us licking our wounds on a plane to Russia. Yes, the Europa League is back and our Round of 32 match with Zenit St. Petersburg is right on the horizon.
The back to back Champions are back in action after the Russian Premier League winter break and with Liverpool in town, they're jumping back in at the deep end; a 1-1 draw with Anzhi Makhachkala way back in December was their last competitive fixture, but boss Luciano Spalletti believes the Sine-Belo-Golubye are in good enough shape to take give the Reds a go. With us coming off a pair of draws with Arsenal and Manchester City where we dominated for large swathes of the match, I would have disagreed with the Italians; until the debacle at Anfield on Monday night that is.
You've got to question what's going happen and the odds are starting to reflect that. Just having a browse over at https://sports.bwin.com/en/sports/4/betting/football you can see that they're quickly closing the gap between the two sides. With Liverpool at a 3.00 to win and Zenit at 2.35, there isn't much room for error — and this is only the first match. Bwin has the visitors at 1.80 to advance and the hosts at a very close 1.90; essentially, you can flip a coin on this one, though we all know that playing in front of your own fans can play a major role.
The Petrovsky Stadium, with a capacity of only 21,570, makes for a cramped, intense atmosphere and things can get heated very quickly — and not always in that old fashioned football atmosphere kind of way either. As much as stereotyping isn't welcome, the Zenit supporters are regarded as some of the worst in the world and their famous open letter to the club's board denouncing the signings of African or homosexual players did nothing to foster goodwill with the football community or the sensible, tolerant world at large. We've had problems in all levels of English football for ages and with some of them still festering just below the surface, pointing fingers becomes a pot and kettle situation; still, it has to be said that the treatment of our players on Thursday has become a major concern that the club has felt the need to address ahead of the first leg tie in St. Petersburg.
Although the potential for disaster in the stands is omnipresent, the capacity for the same on the pitch is there as well — thankfully though it's in a footballing kind of way. We met big spending Russian side Anzhi Makhachkala in the Group Stages and now we have cash flush Zenit St. Petersburg in the Round of 32; much like their counterparts, they've got a name or two in their side that can turn heads. Brazilian striker Hulk looked destined for Premier League action with Chelsea until being snapped up at the end of the summer transfer window by the astronomical wages on offer and Belgian midfielder Axel Witsel was being linked to a host of top European clubs before taking up residence in the great white north. Portuguese defender Bruno Alves arrived a few years back to galvanize the defense and has done wonders leading from the back.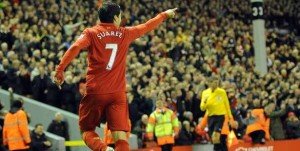 Snatching an away goal will be crucial, but without Daniel Sturridge in the squad, we looked like an entirely different side. Although he would have missed out with an injury anyways, neither our new striker nor Brazilian wonder-kid Coutinho could have made the squad; both are Cup tied after making appearances for their former sides in Europe this season. We're just going to have to find another way.
Brendan Rodgers has said we have a shot to win this and has named his side accordingly. In the Group Stages, we took some chances by putting out the kids and some fringe players to save the first team for the more important job of storming the League table. Now, we've got Luis Suarez, Steven Gerrard and Pepe Reina all making the trip and expecting to be involved from the get go. Raheem Sterling, Fabio Borini and Suso have all made the travelling party and it's the kind of movement that they can provide — stretching the defense wide and pulling players out of position — that could provide the kind of space Luis Suarez will need to operate. It's been over a month since Zenit played a real competitive match, but that doesn't mean they all of a sudden forgot how to smother a player.
Crashing out of the FA Cup to Oldham required a response; we got it when we put in a shift against Arsenal and Manchester City. Losing to West Brom requires the same kind of response. We've got one trophy left to challenge for and Zenit St. Petersburg is standing in our way; they might have the cash, but we've got the heart. Time to move, kids.
–steven.
Get social with our media and find us on Facebook and Twitter. There's also a comments section; go on and have a go.