The Skipper Targets Perfection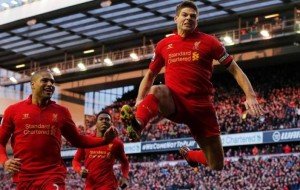 After beating Tottenham on Sunday, Liverpool captain Steven Gerrard is looking for the perfect finish to the season as the Reds look to sneak into a Champions League spot through the backdoor. With nine matches left in the campaign, there's 27 points left on the table and only three sides that should give Brendan Rodgers men a serious run for their money.
The Reds travel to St. Mary's Stadium this weekend with just one loss in their last seven games – a run of good form that they'll look to continue against Premiership strugglers Southampton. After the International Break, we'll find ourselves away to both Aston Villa and Reading with a meeting with West Ham United sandwiched in-between before Chelsea interim boss Rafa Benitez visits Anfield for the first time since leaving the Liverpool hot seat in the summer of 2010.
Brendan Rodgers side currently trail the Blues – who have a game in hand — by seven points and his Skipper has been around the block enough times to know that even if his side continue marauding their way through the remainder of the season, their fate is out of their hands.
Hopefully the teams above us will slip up. All we can control is our performances and our consistency and hopefully we will finish strong.

Liverpool don't belong in seventh, eighth or ninth in the table. We want to push for the European places year after year.
The 3-2 win over Tottenham on Sunday was the first time Liverpool took full points against a top side this season with chances against Arsenal, Manchester City, Manchester United and Chelsea all going begging earlier in the campaign. The Reds currently sit sixth in the table on 45 points, and in a season blighted by inconsistency, a run for the Champions League never seemed likely until now – even if it is a real outside shot.
I'm hoping it will be a springboard for us to go on and finish the season really strongly. At times we haven't got what we've deserved against top sides but we can't look for excuses. We are where we are and we need to take responsibility for where we are in the league
Liverpool have now won three matches on the trot for the first time this season – a statistic that's both encouraging and disheartening at the same time. It wasn't just the top sides they were having problems with; both Stoke City and West Bromwich completed unprecedented doubles over the five time European Champions earlier in the season and even matches against the minnows have been a tough slog for Brendan Rodgers side as they transaction into a new philosophy and style of play. After some early season stutters, the Captain has played a massive role in the transformation of this new look Liverpool side having clocked up every available minute of League play this year – something that would have been unthinkable only a year ago as he battled frequent bouts on the treatment table.
We go on the road to St. James Park before welcoming cross-town rivals Everton to Anfield before closing out the season in relatively quiet fashion with a trip to Craven Cottage and the visit of Queens Park Rangers on the final day of the campaign. If the Skipper is looking for perfection, he's got a good run of games in which to find it and if he can keep clocking up the minutes, we'll be that much closer to playing on the continent next season.
–steven.
Get social with our media and find us on Facebook and Twitter. There's also a comments section; go on and have a go.