Joe Allen Out for the Rest of the Season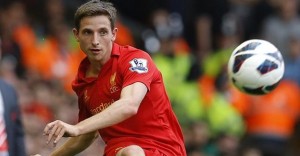 The News Desk was already ruing the International Break and all the surprise injuries that come along with it, but the first one we get to announce isn't even that much of a surprise.
Welsh midfielder Joe Allen has been struggling with a long standing shoulder problem and after withdrawing from Wales World Cup qualifiers with Scotland and Croatia earlier in the week, the club have ruled him out for the remainder of the season after announcing that he will go under the knife in the very near future. Former Wales's striker Iwan Roberts says the loss of Allen will be a big blow to their hopes of making it to Brazil next summer, but we're not too worried about International football around these parts — we're more concerned with the extra pressure this is going to put on Lucas and the rest of the Liverpool squad. Then again, the diminutive midfielder hasn't been playing that great as of late, so maybe this particular bit of injury news is about as bad as it is surprising.