Time for Jordan Henderson to Shine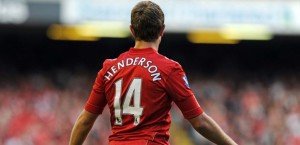 Now that Joe Allen has been ruled out for the remainder of the season, Liverpool gaffer Brendan Rodgers is looking to Jordan Henderson to fill in the gap the injured Welsh midfielder is leaving in the middle of the park.
Henderson came to Anfield with great expectations and a price tag to match; a £16million signing from Sunderland, he was a regular first teamer under former manager Kenny Dalglish, but has since found himself on the outside looking in as Allen – despite his inconsistent form and similar hefty price tag – was consistently selected ahead of him after the Welsh midfielder traded South Wales for Merseyside during the summer transfer window.
With only 22 appearances to date under Brendan Rodgers, Henderson has become somewhat of a peripheral figure; when you consider he made 48 appearances in his first and only season under Dalglish, maybe "peripheral" isn't the right word for it. Goals against Norwich and Arsenal earlier in the year and then a strong showing against Zenit St. Petersburg in the Europa League lead many to believe that Jordan had found his way back into the squad and into the good graces of Rodgers – until he disappeared again.
Relegated to the bench for the wins against Swansea, Wigan and Tottenham, the boss was hesitant to change as winning side as the Reds won three on the trot for the first time in a very long time. It wouldn't last forever though and with the loss at Southampton breaking that good run of form, the International Break interrupting our flow and now the injury to Joe Allen causing logistical problems, Henderson may find his way back into the fold sooner than expected; something the boss insists he wouldn't have hesitated to do regardless of our current situation.
It's just the balance and it depends on the opponent. The team has been winning as well. But Jordan has been excellent, he's a good player, he's improving tactically all the time and I know if I need to call on him he will be ready.

-Brendan Rodgers
With the Premier League on hiatus as the players disperse across the globe, Rodgers has been keeping a keen eye on his charges as they represent their respective nations on the Road to Rio. Although Henderson might not be playing for the senior team at the moment, the England Under-21 Captain has joined a handful of Reds playing in Stuart Pearce's highly rated squad as warm up for Euro 2013 in Israel this summer. He was on hand to set up Sunderland striker Connor Wickham for England's fourth goal against Austria in their last friendly before the tournament and with an impressive nine consecutive clean sheets under their belts, there are high hopes that the Baby Lions will be able to bring home some silverware. Although the eager midfielder wants the tournament to start "right away", he's also eager to help the Reds make a sustained push for European football.
The 3-1 loss to Southampton may have put a huge damper on Liverpool's hopes of playing Champions League football next season, but Henderson insists that the Reds could still find themselves waging a continental campaign if they play their cards right.
It was a big disappointment against Southampton but Europe's not gone yet. We've still got eight games to play and that's a lot of points to play for. We've still got to play some of the teams above us so we have to keep going.

-Jordan Henderson
There's been more than one occasion where Liverpool have been faltering and could of used the kind of tenacity that Jordan brings to the midfield; the disappointing loss at Saint Mary's just before the break being the most recent, and possibly poignant, example. With Joe Allen being overrun, Rodgers opted to bring in Lucas – who had barely trained prior to the match due to a knock – instead of a fit and well rested Henderson. Maybe there's something we don't know; the Gaffer sees him everyday in training so he would obviously know better than me, but it still seems baffling that he's continually overlooked.
When called upon, in the league anyways, the 22 year old has thrown everything he has into his game and under the tutelage of Rodgers, it's a more tactically disciplined and team aware Henderson that's making things happen on the pitch. He's still a ways off from living up to his £16million price tag, but with Allen out for the remainder of the season, this may be the last chance the youngster has to cast out whatever doubts that still remain in the bosses head.
–steven.
What do you think? Will Henderson step it up and be a major force in Liverpool's end of the season run in? Or is he going to justify his constant exclusion and make a case for an Anfield exit this summer? Hit us up in the comments, on Facebook or Twitter.