Suarez Won't Appeal 10 Match Ban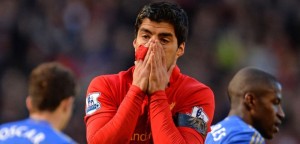 Yesterday, Liverpool left the option to appeal the 10 match ban handed down to Luis Suarez for biting Branislav Ivanovic in the Reds 2-2 draw with Chelsea last weekend to the striker himself. It's been a long morning of waiting, but the News Desk can confirm that the Uruguayan has opted not to pursue the matter further.
Suarez had already accepted the standard three match ban for violent conduct, but could have appealed against the additional seven matches added to his punishment. The club had reserved judgment until receiving the written reasons for the extended ban, but many at the club choose to speak out on behalf of the embattled striker with goalkeeper Pepe Reina, defender Jamie Carragher and manager Brendan Rodgers particularly damning of the decision.
A statement on the FA website read:
"A three-person independent regulatory commission upheld the FA's claim that a suspension of three matches was clearly insufficient and the player will now serve a further seven first-team matches in addition to the standard three. The suspension begins with immediate effect and applies to Liverpool FC's next ten domestic first-team fixtures."
Appealing the ban could have resulted in it being increased had the striker lost the follow-up hearing and with Brendan Rodgers accusing the Football Association of leveling the punishment against the man, rather than the incident, it could be in the best interests of Suarez, and Liverpool, to lay low for the time being. With Suarez sitting out the Reds final four Premiership matches – against Newcastle, Everton, Fulham and QPR – as well as the first six fixtures of next season, it remains to be seen how Rodgers will cope with the loss of one of his most important players.
You've got to have an opinion on this one. Let us know in the comments section below or you can hit us up on Facebook or Twitter.