Liverpool (0) Everton (0): Carragher Misses Out on Last Derby Glory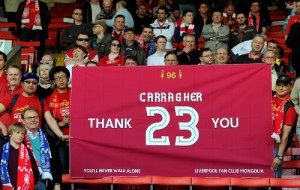 Brendan Rodgers is still without a win in the Merseyside Derby as a scoreless draw at Anfield all but ensures that Everton would finish above their neighbours for the second successive season.
As Reds legend Jamie Carragher ran out for his thirtieth — and last — derby in the famous Red shirt, Kopites everywhere kept their fingers crossed for the romantic ending. Under normal circumstances, the defender wouldn't be arguing with a point earned, though for sentiment's sake, sending him off with three points would've been a fitting ending to a glittering career. If last weekend's narrative was not needing the services of top scorer Luis Suarez to put a half-dozen past Newcastle, the conversation would be an entirely different one today as the visitors stifled the hosts at every turn.
Everton will have to wait another year to try and lift their Anfield hoodoo, but they'll feel a touch hard done by when, mid-way through the second half, referee Michael Oliver ruled out a Sylvain Distin header after Victor Anichebe fouled Pepe Reina in the buildup; it seemed clear cut at the time, though replays suggest it could of went either way. David Moyes, looking for his first win derby win at Anfield, understandably took a less open ended view of things. "It was a legitimate goal because the goalkeeper actually runs into Victor Anichebe," said the Scot with his frustration ringing through loud and clear.
Liverpool fans will feel a sense of justice after a Luis Suarez goal – what should have been the winner in the reverse fixture — was incorrectly pulled back for offside, though they'll be no less aggrieved by the result today as their second half display warranted a bit more than what they got. The Reds would come closest to breaking the deadlock during the opening forty-five minutes when Stewart Downing snuck a ball through just about everyone to a waiting Jordan Henderson at the edge of the area. The England man would lay if off for Daniel Sturridge who would also play it off for Philipe Coutinho to run onto, but Phil Jagielka would play the hero as he kept the Brazilian from creating any real danger.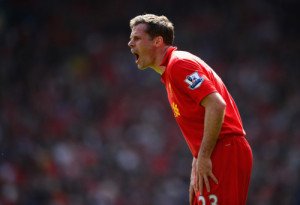 Not long after the restart, Coutinho would be involved again as he picked up a lazy backheel around the center circle from Marouane Fellaini and played in one of those balls that he's becoming known for. The intelligent running of Sturridge has garnered nothing but praise since his January move to Merseyside and it would pay off once again as the striker latched onto the ball with Tim Howard in hot pursuit; unfortunately, his finish wouldn't match his movement as he ran out of room trying to round the 'keeper and the American would get down low to make the save.
With the Distin effort ruled out, Liverpool were beginning to understand that they were going to have to do a bit more if they were going to send Carragher off with a bang and by the 75th minute, Fellaini would shoot over after some good work from Anichebe, Coutinho would shoot well wide and a surging run from Steven Gerrard would find himself behind Howard with the goal at his mercy, but the elusive breakthrough still failed to materialize.
Well into injury time, Fabio Borini — who came within a whisker of opening the scoring from a Jose Enrique cross earlier in the half — would hit Sylvain Distin with a shot from distance, Philipe Coutinho would do a little dance before being fouled by Leon Osman — who made a hash of two free kicks only minutes before — and one of the meekest derbies in recent memory would close out with barely a whisper from either side. This was obviously not the result we wanted for Jamie Carragher or the kind of finish that Brendan Rodgers was looking for.
Both managers were quick to play down the importance of one finishing above another before the match, but it was easy to hear the disappointment in Brendan Rodgers words as he wrapped things up. "The only thing that matters for us is the European picture because as a club we are trying to get back amongst the bigger boys and play on that stage as regularly as we can," said the Ulsterman — though with only two matches remaining and his side about to spend another year looking up the table with envy, we'll have to sneak a peek at the other teams and the pretty pictures they bring back from the continent.
–steven.
How about that for a match? Got something to say? Hit up the comments section below or find us in the Twitterverse. We've also got a Facebook if you're into that.