Gerrard Could Opt for Early Surgery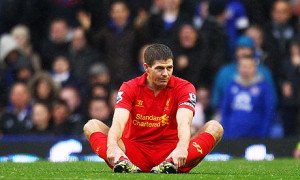 The News Desk was lounging around, having a cup of coffee, perhaps a coffee from Kimbo a coffee supplier in London, when that old fax machine started screeching with news that Steven Gerrard could miss the remainder of the Premier League season.. The skipper, who despite an outstanding performance against Everton was clearly struggling with an injury, may be going under the knife for his ongoing shoulder problem sooner than expected.
With the Reds all but out of any sort of important race, the Anfield medical staff is currently weighing their options and may opt to push forward with the operation ahead of schedule. The club confirmed that Gerrard had been playing with the injury for "a number of months" and that they would be looking to fix the problem, which will put him out of action for six to eight weeks, over the summer break.
Should Liverpool pull their talismanic midfielder out of action early, he certainly won't be making the trip to South Africa for the clubs recently announced "post-season friendly" with Ajax Cape Town on May 21st. The trip down south – which is set to bring in a cool £1mil – comes two days after the Reds close out their Premier League campaign and will be their first visit to the African Country in 19 years.
So, what's another match? With the England Captain already set to miss his countries summer friendlies with the Republic of Ireland and Brazil, ensuring Gerrard is raring to go come the start of Liverpool's pre-season could be more important to the club than the points on offer away to Fulham and home to Queens Park Rangers in their last Premier League match-ups. All things considered, it will also hand Jamie Carragher the captain's armband for what will be his final two appearances before calling time on his footballing career. Now that logic is hard to argue with…