A Sunday Afternoon at the Cottage: Fulham Preview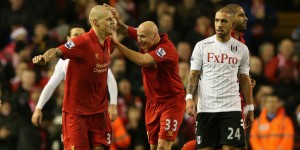 After the goalless draw with Everton last weekend, you can pretty much wrap this season up. Sitting seven points clear of eighth placed West Brom and five points behind their neighbours, its unlikely Brendan Rodgers will see any movement in the table by the time Liverpool's last two matches play themselves out.
While we've got a trip to Craven Cottage on the cards, most of the chatter today was about the cancellation of a  "post season friendly" in South Africa after their proposed opposition, Ajax Cape Town, were forced to pull out due to the match falling within regular season play. Though it's a lost revenue stream for the club, it's not a major burden as the club recently signed a number of impressive deals which only confirms that football sponsorships on EPL sides can be profitable for just about everyone involved. Too bad those sponsors can't do anything to keep the players on the field.
We've got just over three hours of football left to play until we can call time on this campaign and we'll be doing it without some key names. Top scorer and should have been player of the season Luis Suarez is obviously still sidelined for taking a big ol' bite out of Branislav Ivanovic a few weeks back, but the Uruguayan isn't the only one who'll be missing come Sunday. Steven Gerrard has been ruled out for the remainder of the season after the club decided to push ahead with his shoulder surgery ahead of schedule and Daniel Agger was quick to follow the Captain to the operating room with the Anfield medical staff deciding that back surgery for the big Dane would be the best option.
Now that Gerrard will be in the stands rather than on the field, Jamie Carragher will be a shoo-in to end his days at Liverpool with the captain's armband on as the defender plays out his final matches. Supposedly, he'll also be doing it with Martin Skrtel by his side. The Slovakian defender has been the biggest casualty of Carragher's resurgence and he's made only a few cameo appearances since the Reds shock FA Cup exit to Oldham at the end of the January; though, if you hop back just over a month to December, you'd see him open the scoring when Brendan Rodger's side romped to a 4-0 victory.
Even Stewart Downing put one past Mark Schwarzer as we dreamed of a top four finish. Before Christmas came, we were only five points out of a Champions League; but Fulham — well, they were still being Fulham. The Cottagers hit the magic forty point mark just over a month ago and with their relegation fears all be abated, they've seemed to clock out early and haven't accumulated a point since. It's been four losses on the trot for Martin Jol's side and though they don't need to close out the season looking over their shoulder, turning out five straight matches without a single point won't be high on their agenda.
Anything resembling a point for Fulham might be hard to come by with Steve Sidwell missing out for the hosts through suspension; according to the BBC, the Cottagers haven't won a match without the English midfielder in their side — that obviously won't inspire confidence with Liverpool in town. The stalemate last weekend at Anfield left the fans, and likely the players, feeling a touch flustered. The last time Brendan Rodgers took this show on the road, Newcastle ended shipping six unanswered goals as Philippe Coutinho put in a master class performance and both Daniel Sturridge and Jordan Henderson enjoyed their respective braces.
We might not score six tomorrow, but it's pretty much assured that not only will someone score, but someone is going to win. There hasn't been a draw in the last eleven meetings between these two sides at Craven Cottage and it's hard to see that trend ending tomorrow. Although it hardly matters in the grand scheme of things, close out the season with a couple of wins is always nice and with Fulham somehow doing the double over us last season, it'd be nice to return the favour this time out.
–steven.
Get social with our media and find us on Facebook and Twitter. There's also a comments section; go on and have a go.