#ThanksCarra: QPR Preview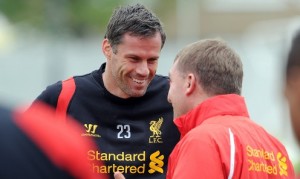 As the season comes to a crashing halt with the visit of Queens Park Rangers in the penultimate match of the season, emotions will be high on another Anfield afternoon. Liverpool close out a campaign blighted by inconsistency, finishing in seventh place, behind cross-town rivals Everton for the second season running, and nine points adrift of a Champions League spot. Thankfully, for tomorrow at least, none of that really matters.
Whether you sum up the season as a colossal failure or just another speed-bump on the road to glory, we can put our feelings aside tomorrow as we say farewell to a true Liverpool legend. Jamie Carragher, after seventeen seasons playing for the Reds, will captain his side in what will be the last match of his footballing career.
It'll be strange not having Carragher around next season. When a player puts in seven-hundred plus matches over the better part of twenty years, you get used to having them around. "He's just been a brilliant servant for the club and a great lad. Everybody who knows Jamie and has been around him doesn't say a bad word about him" said former teammate Danny Murphy during a joint interview with Carragher yesterday on radio station talkSPORT. Even outgoing Manchester United manager Sir Alex Ferguson, who will also retire at the end of this season, joined in the chorus of praise for the Reds number twenty-three.
"He's the epitome of a loyal, dedicated player who Liverpool have been lucky to have for more than a decade" revealed the Scot as part of Liverpool produced documentary on the Merseyside born and bred defender. After missing out on one last derby win when Liverpool played out a goalless draw with Everton two weeks ago, Carragher will be looking to go out with a bang in front of the Kop and with already relegated QPR coming to town, the likelihood of that happening seems pretty high.
Luis Suarez scored a brace and Daniel Agger chipped in with another as the Reds brushed aside Harry Redknapp's side at Loftus Road in December and things have only gotten worse for the Hoops since then; with only one goal to show for their almost last eight hours of football, things are dire around the London club. Loic Remy, the club's top scorer this season, found the net from the penalty spot last weekend against Newcastle, but his head might not be in the right place come Sunday.
The club confirmed that the France international, who just joined up with the side in January in a £8m move from Marseille, has trained and will be available for selection after being arrested on suspicion of rape Wednesday morning. There might be more important things on Remy's mind, but Redknapp will be more concerned with the score line — or, in the very least, keeping things respectable. Reds top scorer Suarez will be missing out as he continues to serves his ten match ban for the whole Ivanovic debacle and Steven Gerrard is sidelined due to early shoulder surgery, though old Harry will have another gun to contend with in Daniel Sturridge.
Liverpool have scored the most Premier League goals since the turn of the new year with an impressive thirty-nine strikes and January acquisition Daniel Sturridge has played a big role in that, bagging ten goals and three assists in his thirteen appearances since joining the Reds at the beginning of the winter window. Lump that in with Philippe Coutinho pulling the strings, Jordan Henderson making a name for himself and a backline that is steadying as the season progresses and three points for the visitors tomorrow seems like a pipe dream. Regardless, there's only one thing that matters and that's getting a win for Carragher.
Three points don't really matter when you get down to it. They won't magically qualify us for Europe or turn around a season that is hard to call either a failure or a success. What three points will do though is send one of us off right. "What they'll miss the most about him when he's gone is that every player can be replaced to a point, but it's what he brings off the pitch – the mentality of knowing what that club means, what it's like to play for Liverpool" said Murphy as he ruminated further on what Carragher means to the club and what the club means to him.
That's why we have to win; it would mean the world to him and not just because it'll be the last time he'll be able to do it, but because when Liverpool isn't winning, Jamie just isn't happy — and that man deserves another touch of happiness before he calls time on a glittering career.
–steven.
Get social with our media and find us on Facebook and Twitter. There's also a comments section; go on and have a go.