Andy Carroll Set for West Ham Medical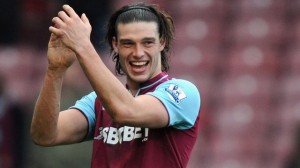 It's getting on in the day, but that doesn't mean that things aren't going down in the transfer market and the News Desk has proof of that with reports coming in that Andy Carroll is set to complete a medical that will see him finally complete his move to West Ham United.
The gigantic Geordie spent last season on loan at the London club after incoming Liverpool manager Brendan Rodgers deemed him incompatible with the type of football the Ulsterman was looking to play. Hammers boss Sam Allardyce, on the other hand, saw Carroll as a perfect fit for his particular brand of kick-about and the former Newcastle man responded in kind by finding the net seven times for his home away from home. Allardyce pulled made no mystery of his desire to make the switch permanent and late last month the two sides agreed to a fee of £15mil to keep the 24 year old in London fulltime with the only holdup being Andy himself.
Rumors of £100,000 per week wage demands and other silliness have kept the strikers move on the sidelines and with the World Cup coming up next summer, it's believed that Carroll was looking to fight for his place at a more "high profile club" to stay in England boss Roy Hodgson's plans. Whether all that has been resolved yet we're not quite sure, but with the Gateshead born striker sidelined with yet another injury – one that will keep him on the treatment table for the summer – the Hammers have turned the tables and are rumored to be preparing a "very serious" medical before any move can be ratified. The News Desk isn't quite sure how they expect Andy to pass this "serious" medical while he's already injured, but we're keen to find out.