Henrikh Mkhitaryan vs Dynamo Kiev: Video and Stats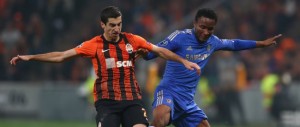 No matter how highly rated a player is, whenever they make a move to another club, there's always a chance they're going to be a colossal embarrassment.
There's a plethora of examples on hand and nailing down the quintessential failure would be borderline impossible, but one thing's for sure: no one wants to be the first name that everyone agrees on. If negotiations between Shakhtar Donetsk and Liverpool are as far along as we're being led to believe, then Henrikh Mkhitaryan could be the next big gamble the Reds break the bank for. We've certainly had our fair share of would be messiahs; between El Hadji Diouf, Andy Carroll and Robbie Keane, we've spent £64mil on three players that fell woefully short of expectations.
With that in mind, it's easy to be skeptical about any big money moves; still, something feels different about the 24 year old Mkhitaryan and Brendan Rodgers will be hoping his proposed £25mil transfer will pay out out in spades rather than being another Liverpool manager to crap out on a big money move.
Video by the industrious SMcomps
Coming soon to a Kop End near you?

We've seen Steven Gerrard do it and it's a thing of beauty; when one a player can dominate a match so thoroughly that the team around him is reduced to a vessel for getting him the ball, there's few spectacles more exhilarating. When Henrikh Mkhitaryan scored both goals as Shakhtar Donetsk ran out 2-1 winners against Dynamo Kiev, the Armenian was having one of those days.

Seeing his pace and off the ball movement is exciting enough, but seeing a midfielder than posses the clinical finish of a striker brings a tear to the eye. Mkhitaryan put 4 of his 6 shots on target and 2 of those shots on target hit the back of the net; the first one a opportunistic strike from right around the penalty spot after a flowing move found him with space to spare and the second was driven high and hard into the roof of the net only a few yards forward from where he scored his first. Right place, right time and a picture perfect finish.

With his 63 touches of the ball, he was dispossessed 3 times and completed 2 of his attempted dribbles. In the video you can see him constantly moving into space to make himself available to receive the ball which is a habit that jives perfectly with the type of system Brendan Rodgers is trying to drill into his Liverpool side. The Armenian also completed 89% of his passes on the day and 1 of his 2 attempted long balls found their target. Although he didn't complete any of his crosses, he wasn't far off and the quality of them just furthered the notion that when he does push out to the wing, he can be a danger from there as well.

Stats courtesy of the very helpful WhoScored.com
Out of all of the players that Liverpool have been linked with in the early days of the transfer window — and there have been a lot — Mkhitaryan is not only one of the most surprising, but the most dynamic. Rumour has it that high flying Champions League runners-up Borussia Dortmund have also been sniffing around the talented Armenian, but as of late, there's been no concrete links to anyone besides the boys from Merseyside; and if we're to believe the press, they're playing for keeps.
Brendan Rodgers is apparently making the attacking midfielder his number one summer target, and with a price tag of £20mil, the imminent sale of Andy Carroll to West Ham for only £5mil less could be the makeweight that puts this deal through. The attacking midfielder netted 25 league goals last year for Shakhtar Donetsk and stats like that don't lie. You don't fake 20+ goals — especially from the midfield. In the event that Mkhitaryan does find himself pulling on that famous red shirt next season, he's going to be in good company.
Philippe Coutinho, Daniel Sturridge, Iago Aspas, Fabio Borini, Steven Gerrard and Raheem Sterling are all players we know will be at Anfield next year; include the Armenian into the mix and our front line just keeps getting more fluid. If we hold onto Luis Suarez? The liquidity will be off the charts with every player in an attacking role able to interchange and make space for each other. The possibilites, as they say, are endless.
–steven.
Get out of here and go check out some more of SMcomps videos on the Youtube. After that, hop on over to WhoScored.com and get your math on.