Simon Mignolet vs Manchester City: Video and Stats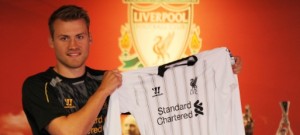 This is only going to further the notion that Pepe Reina is on his way to Barcelona; we all knew that Simon Mignolet was on his way to Liverpool and as the Belgian stopper completed his move today after completing a medical at Melwood, you get the sense that Pepe took another step towards the exit.
There has yet to be an air of silence around a single player we've signed this summer; Kolo Toure, Iago Aspas and Luis Alberto have all had a very public courting by the team in Red before they signed on the dotted line. The move for Mignolet has been more of the same with speculation linking us to the 24 year old — and a handful of other prospects — stretching all the way back to the end of the season.
Video by the talented MrBoywunderComps
Simon keeping in shape

Although it was former Manchester City winger Adam Johnson that secured the points for Martin O'Neil's Sunderland side when the Black Cats downed the then Champions by a 1-0 score line, it was Simon Mignolet who put in a Man of the Match performance to make sure there would be a lead to snatch early in the second half.Vincent Kompany had crashed one against the bar before Mignolet saved from Yaya Toure to keep the visitors at bay. The Belgian 'keeper would go on to make 7 saves — including keeping out a dangerous first half effort from David Silva — as Sunderland snatched an important victory in front of their own fans. By the end of the season, the 24 year old would keep 11 clean sheets in total, but this would be one of the most memorable.

Mignolet would also show his defensive chops by successfully clearing the ball on 1 occasion, though his distribution was a bit lacking with only 38% of his 24 passes completed. 23 of those 24 attempted passes were long balls and 9 of them found their target. — though a case could be made for the quality of the opposition and the sometimes questionable players he was trying to find. With 56 touches of the ball, he gave up possession a total of 19 times with the same argument regarding the team in front of him continuing to hold water.

Still, a 'keeper is best judged by the shots he stops rather than the passes he completes and as time ticked down, he was on hand to keep out efforts from both Sergio Aguero and Edin Džeko as Sunderland moved 7 points clear of the relegation zone with a win against a side no one thought they were going to beat.

Stats courtesy of the ever so handy EPLindex.com
Whether the capture of Mignolet was meant to be as a straight up replacement for Pepe Reina or if he's actually been signed up to provide competition for the Spaniard remains to be seen. The hotbed of rumours swirling around his move back to Barcelona has — oddly enough — cooled off in recent weeks as the links to Mignolet continued to look more and more plausible. Now that he's actually here, it appears that we'll soon see Liverpool's hand and whether or not Reina continues to be one of the trumps.
When you're looking at his stats, it's a bit hard to reconcile the keen interest that Brendan Rodgers showed in the 24 year old. With a 73.4% shot to save ratio and a total of 54 goals conceded in 38 appearances for the Black Cats, there are certainly more attractive targets; on paper anyways. Although I've never taken any sort of interest in his former club, Mignolet was a player that I began to recognize for all the reasons you want to recognize a goalkeeper for — and his performance against Manchester City stands as a stark reminder of what kind of contribution the man at the back can make when the team in front of him is less than prolific.
It remains hard to reconcile the fact that Reina could leave this summer and this relative unknown — to me anyways — would be the one between the sticks come the start of the season. I'll be fair and say I felt the same when Jerzy Dudek was unceremoniously dumped in favor of some Spaniard we signed from Villareal after the miracle of Istanbul. Thankfully, good things can come in unexpected packages.
–steven.
Get on out there and show MrBoywunderComps and EPLindex in the Twitterverse. We're on there too, but we can wait.