Bid Received for AWOL Henrikh Mkhitaryan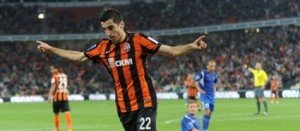 There's been no shortage of drama this week with the signing of new players, potential breaches of contract for others, the Captain making a swift recovery from shoulder surgery and our main target, Henrikh Mkhitaryan, refusing to show up for pre-season training with his current club Shakhtar Donetsk.
The highly rated midfielder moved quickly to stifle doubts of a imminent transfer last week on his personal Facebook page by confirming that he hasn't been in talks with anyone – but that was before he didn't show up to train with the Ukrainian club ahead of the new season. Shakhtar Donetsk's Chief Executive, Sergei Palkin, stated that "I don't know where Mkhitaryan is, now; solely his agent knows this" before dropping the bombshell that Champions League runners-up Borussia Dortmund have tabled a £19.5mil offer for the player. Despite that being a whole lot of latkas, it isn't going to be enough to pries the prized Armenian away from the Hirnyky.
"We are prepared to sell Mkhitaryan for £25mil. This offer stands for the next 10 days" said Palkin as he hung a figurative for sale sign around the neck of the 24-year old. "If Mkhitaryan wishes to leave, they have to pay this amount for him". It's been rumored that Liverpool are prepared to go all-in to get their man with the sale of Andy Carroll to West Ham – and the possible departure of a contract-breaching Luis Suarez – being used to fund the move. How the bid lodged by Borussia Dortmund, and the unknown whereabouts of the midfielder, complicates the situation remains to be seen, but if the Reds are looking to wrap something up, they're going to have to make an official offer soon.