Liverpool Retain Interest in Xabi Alonso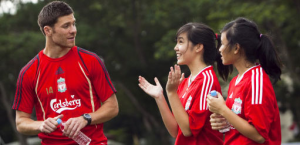 After the Reds missed out Borussia Dortmund new-boy Henrikh Mkhitaryan and allowed still raw youngster Jonjo Shelvey to join Swansea last week, central midfielders remain a hot topic of conversation around Merseyside and speculation that Brendan Rodgers is looking to bring firm fan favorite Xabi Alonso back to Anfield is keeping the banter on a steady simmer.
It wouldn't be a transfer window if Liverpool weren't linked with the talented midfielder and though it seems as far-fetched as ever, stranger things have happened and it's believed that Rodgers is doing his utmost to convince the club's board of directors to sanction a move thought to be around £10mil for the Basque midfielder. The Reds have placed a firm focus on buying and developing youth over the last two years so a move for 31 year old Alonso would certainly fly in the face of that policy – though a player of his talents and pedigree could be exactly what Liverpool needs as they a plot a return to the lush green pastures of the Champions League.
Chelsea are also thought to retain a keen interest in the playmaker and new Blues boss Jose Mourinho has been rumored to be scheming to bring him to Stamford Bridge. The former Real Madrid boss made Alonso one of the key components of his set-up during his time at the Bernabéu and continues to be an admirer of his; still, it's safe to say his heart is still on Merseyside. Alonso has made no secret of his affection for the Merseyside club and as he reportedly trains alone as he recovers from a groin operation, a move back to the city he loves could be an option as he enters the final year of his contract in the Spanish capital.