Pacheco to Stay Home, Suarez and More Expected to Join Up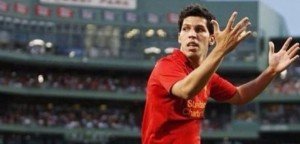 The News Desk thought it would be spending its morning sifting through all the various Christian Eriksen rumors, but when the fax machine started squealing with reports that Dani Pacheco was left out of Liverpool's squad for their pre-season tour, separating straight up facts from imaginative fiction went onto the backburner.
The Spaniard, who has failed to establish himself on Merseyside since his move from Barcelona in 2007, was the first to break with news with the rather blunt tweet "Finally not travelling to Asia. Will talk about my future this season in next couple of days. Thank you. YNWA." After spending three of the last four seasons out on loan, you would have thought that it would have been the clubs decision to leave the 22 year-old behind, but by the looks of things, it's Pacheco that wasn't keen on making the trip, preferring to stay on Merseyside to sort out his future. Dani has been consistently linked with a move away from Liverpool ever since he arrived and this latest revelation will only fuel speculation further.
One man who isn't being given a whole lot of time to sort things out is want-away striker Luis Suarez who has also been named in the 27-player squad; although, the Uruguayan will not be departing with the initial 24-man group, he will join up with the squad along with Sebastian Coates and Pepe Reina – who have also been given extra time off following their involvement in the Confederations Cup – "at a later time". With intense speculation surrounding each of those players, whether "a later time" is actually "never" or "after we flog them off to the highest bidder" remains to be seen. Rest assured that when we know, you will too.