Liverpool (1) Stoke City (0): Simon Mignolet Stars as Reds Hold On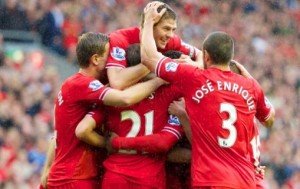 It's not hard to pick a hero at the end of that one; Daniel Sturridge would put the ball in the net, but Simon Mignolet's late penalty save would preserve Liverpool's slim lead and see them claim their first opening day victory in five years.
There were fears this one was going to end scoreless; the Reds had failed to find the net against the Potters in the visitors last two trips to Anfield and with opening day jitters thrown into the equation, things weren't looking all that promising. A number of good chances fell to Brendan Rodgers men in the opening exchanges, but they would be continually stifled by Stoke 'keeper Asmir Begovic before Daniel Sturridge found the breakthrough on 37 minutes with a low shot from distance. It looked like his first half strike would be the deciding factor until some late drama called Liverpool's new man at the back into action.
Statistics aside, Pepe Reina remained the comfortable choice for most Kopites. With the Spaniard shipped off to Napoli on loan and Mignolet installed as the first choice 'keeper, there were big shoes for the Belgian to fill; in the early exchanges, it looked like he was going to fall short when former Liverpool striker Peter Crouch unsettled the new guy and drew him out of position. Stranded near the edge of the box, the ball fell to Stoke defender Robert Huth who would smash a shot against the crossbar with the goal gaping.
After that early scare, the Reds would settle and Daniel Sturridge — a surprise inclusion in the starting lineup — had the ball in the net from a Steven Gerrard freekick, but it was quickly ruled out for offside. Only moments later, Kolo Toure, another Anfield debutant, would have a bullet header cannon back off the crossbar. From the outset it appeared it would be one of those days.
Sturridge, who scored a handful in a closed doors match against Newcastle on Tuesday, would round Begovic after a lovely Coutinho through-ball found him in space, but the 'keeper was able to push him wide enough to nullify the threat. The Stoke shot-stopper, reportedly an early target for Brendan Rodgers, made it obvious why we were sniffing around as Coutinho pulled the strings and chances fell to Jose Enrique, Iago Aspas and Daniel Sturridge — the Bosnian would be equal to it all.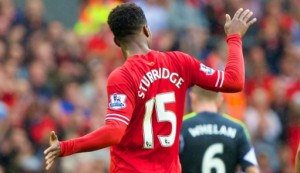 After a half hour, it was looking all too familiar; Liverpool having all of the ball, but unable to deliver a decisive blow and Stoke, creating nothing because they're not trying to, holding out for a draw. Thankfully, history wasn't about to repeat itself.
It took him all summer to return from an ankle ligament injury, but Sturridge would open the scoring at Anfield — and in the Premier League as a whole. Iago Aspas had a cracker of a pre-season and was looking lively on his competitive Anfield debut; a quick pass would set up Sturridge for the opener as the England strikers low shot from distance nutmegged Robert Huth to slip past Begovic and nestle comfortably in the far corner. The Stoke hoodoo, it would appear, has been broken.
Jon Walters went looking for the equalizer after a defensive mix-up gave him a clear shot at net, but Simon Mignolet showed that Begovic wasn't going to be the only show at Anfield today with a beautiful diving save to push the ball away for a corner. Lucas, who ended up winning all five of his tackles today, was controlling the midfield nicely, but it was mere moments later  when the Reds would survive a rare bit of pressure as Ryan Shawcross came close to a late equalizer during injury time. Only 2 minutes into the second half, Coutinho would look to double the hosts lead with a shot that skewed away from the target and as the half wore on, Liverpool would build the pressure with both Sturridge and Aspas would going close in short order; still, the elusive second goal would failed to materialize.
After two Liverpool old boys, Jermaine Pennant and Charlie Adam found their way onto the pitch in the 62nd minute, Rodgers men would rattle the post once again after Aspas won the ball back high up the pitch. The Spaniard would draw three defenders and somehow find room to cut back for Jordan Henderson. The midfielder, quiet for most of the day, had sneaked into the box in the ensuing panic and smacked a shot off the inside of the post with Begovic well beaten. One of those days? Indeed.
Stoke attacks were few and far between and when one ended with Robert Huth kicking Steven Gerrard in the chest, the Captain would go looking for revenge minutes later when, from distance, his sweetly struck freekick was tipped away by the flying Bosnian 'keeper. Glen Johnson would shoot just wide from a tight angle after Agger headed the ball down for him from the resulting corner, but all signs pointed to a nail biting finish at Anfield.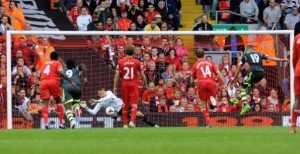 Stoke were going to need a miracle to find their way back into this one and Charlie Adam went looking for just that with a shot from the halfway line. Mignolet did well to keep it out and tt was looking like that would be the best chance Mark Hughes men could muster until, with only a minute left in regulation time, a Daniel Agger handball would would gift the Potters a chance to nick a point where they most certainly did not deserve one.
Simon Mignolet found his feet after what was a bit of a shaky Anfield debut and with Jon Walters stepping up to the penalty spot, the Belgian 'keeper had a chance to show why he was preferred to Pepe Reina. The Republic of Ireland striker, so fond of scoring against Liverpool, would go hard and low to the left and Mignolet would respond in kind to send Anfield — and his teammates — into raptures; penalty saves are pure gold and those made on your debut are nothing short of magic.
As time ran out, some handbags between Coutinho and Steven N'Zonzi would run into a hoof from Begovic finding Kenwyne Jones who went looking for Walters to redeem himself, but it would be a day of firsts for the the Reds as they recorded their first victory of the new season, their first on opening day in five years and their first victory over Stoke in five tries. Improvements are certainly needed and you can rest assured that fact won't elude Brendan Rodgers; we lacked the kind of clinical finishing that we're going to need to put in a sustained challenge in the league this season. With that being said, three points to kick things off is hard to complain about.
We've been punished for silly mistakes and a lack of cutting edge in front of the net far too many times, so it was nice to have all the nail-biting excitement of a close finish come out in our favour. It's far too early to say beating Stoke, so long our bogey team, represents a changing of the tides, so I won't. For now, I'll enjoy the three points and look to the rest of the transfer window for assurances that we're getting it right.
–steven.
What'd you think of that one? Let us know in the comments section or hit us up on Facebook or Twitter. We'll be back with some analysis of our opening day win if and when we sober up.