Liverpool Expect Real Madrid Approach for Luis Suarez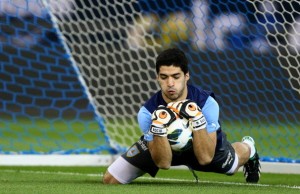 A number of Premier League managers have called for the transfer window to be closed before the beginning of the season and the News Desk is about to throw it's influential voice behind those calls with reports coming out of the Spain this morning that Real Madrid could be back in for want-away Liverpool striker Luis Suarez.
The Spanish giants – who are said to be in advanced negotiations with Tottenham winger Gareth Bale – are supposedly kinda considering maybe making an inquiry for the Uruguayan if Karim Benzema completes a move to Arsenal; this, of course, seems highly unlikely. The Gooners have faced insurmountable problems in the transfer window, not limited to their own ill-advised pursuit of Luis Suarez, and as a result, long-standing manager Arsene Wenger has come under increasing friendly fire after his side was turned out 3-1 by Aston Villa last weekend. Liverpool, on the other hand, haven't fared much better in the market and although Brendan Rodgers has re-iterated that the striker is not for sale, questions have been raised whether the Reds would be able to bring in a top-shelf replacement should he be sold.
Suarez spent the beginning of the transfer window batting his eye-lashes at Los Blancos as the Uruguayan attempted to engineer a move away from Anfield. At one point it was believed that the sulking striker had already agreed to terms with Carlo Ancelotti's side and that a move was imminent; when the transfer failed to materialize, two bids from Premier League rivals Arsenal were rejected with a contract row over an offer of £40mil plus £1 erupting as a result. Primary Liverpool owner John W. Henry was thought to have put the matter to bed by publically stating the striker would not be sold this summer to anyone, at any price, after Suarez waged his own offensive through the press. With the matter supposedly settled and Liverpool's Number 7 back training with the first team, these fresh reports could once again unsettle an already volatile situation and test the resolve of the Reds hierarchy. More on this if Real actually get their thumb out and do something this time…