Liverpool (1) Manchester United (0): Daniel Sturridge Does it Again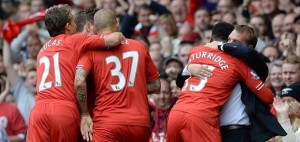 Truly, there are few better feeling than beating Manchester United; Daniel Sturridge — celebrating his 24th birthday today — would score his third successive winner in as many matches as Brendan Rodgers recorded his first win as Liverpool boss over our arch-rivals.
With Sturridge's flicked header in the fourth minute being the decider, Red Devils boss David Moyes was also resigned to yet another defeat at Anfield; something that he was thankfully used to already after twelve matches without a victory as Everton manager. Three points against United is always a sweet treat, but as the second half laboured on, we saw cracks emerging as the Reds failed to capitalize on their early advantage. For now, in the wake of celebration, that point remains moot, but as the Kop celebrated ahead of what would have been legendary manager Bill Shankly's 100th birthday, this one could have played out to a dramatically different conclusion.
If the hyperbole surrounding Chelsea's trip to Old Trafford on Monday was nothing but that, then United's visit to Anfield, in all it's fevered build up, promised not to disappoint as Daniel Sturridge, who has now scored eleven goals in his last nine appearances, put the hosts in dreamland less than five minutes in. A Patrice Evra cross would open things up and as Simon Mignolet saved a Ryan Giggs effort with just over a minute played and it was apparent from the get-go that this would be no tame affair. It was the good work of Jordan Henderson to close down Ashley Young that earned Liverpool their first — and most important — corner of the match and from that a looping Steven Gerrard cross would find the head of Daniel Agger.
You've seen the best strikers drift offside only to come back on at the vital moment to score and that's exactly what Daniel Sturridge did — slipping between two United defenders standing on the line — as the ball smacked off the head of Agger and the striker, unnoticed by the Red Devils rearguard, dinked it over their heads and past David De Gea for the opener. As Anfield exploded around them, it would be absolute pandemonium from there on out.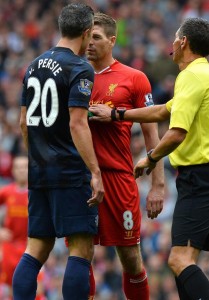 Robin van Persie would miss an Ashley Young corner, Glen Johnson would steal the ball off the toe of Danny Welbeck at the last second after Young skipped past a pair of Liverpool players, Coutinho would be made into a sandwich by Ryan Giggs and van Persie and, after what appeared to be a slide-tackle contest, Steven Gerrard's free kick would lack the bit of oomph it needed to beat a diving David De Gea; then came the cards. Iago Aspas and Tom Cleverley would both end up in the book after United defender Phil Jones took an awkward tumble. The Reds would play on and Cleverly, incensed that the ball wasn't kicked out, would hack down Coutinho from behind in the heat of the moment. The challenge was worthy of a yellow card on its own, but Aspas, cutting a frustrated figure for much of the day, would be booked for over-enthusiastically appealing for what ended up being the result.
Where Gerrard lacked power in his previous free-kick, Coutinho would make up for by firing over from the resulting set-piece before Antonio Valencia replaced the injured Jones. The cards weren't about to stop anytime soon as van Persie picked one up for a bad challenge on Agger after trying to win a penalty with a less than convincing set of theatrics and Michael Carrick, United's best player on the day, would incense the Spaniard further by cynically holding him back as he attempted to break out of his own half.
The England man should have seen another yellow early in the second half when he tackled Aspas from behind, but he was lucky to stay on the pitch as United began to take control of the match. A pair of corners for the visitors would follow in quick succession with United looking their most dangerous when a poor Daniel Agger header — certainly not his first of the day — fell to Ashley Young on the edge of the area.
The winger would smack a half-volley into traffic and the danger would dissipate, but this would be a firm reminder of the threat the Red Devils posed when concentration was lost. Mignolet and Agger would have a mix-up moments later and the two would collide going for a cross as United held some sustained pressure. Welbeck would look for a penalty, and find himself lucky not to be booked, as the England man took a dive under pressure from Aspas. Ashley Young wouldn't be quite as lucky as he picked up his first booking of the day when his poor tackle caught Jordan Henderson on the break.
Raheem Sterling would replace Aspas not long after as Liverpool boss Brendan Rodgers looked to fresh legs to turn the tide. A Ryan Giggs header would be well saved by Mignolet after Nani, on for the ineffective Young, won the visitors yet another corner. The Belgian hadn't had much to do up to this point, but with 20 minutes remaining, a calm head at the back was a reassuring sign as Javier Hernandez replaced the experienced Welshman. Glen Johnson would put in a crunching tackle on Patrice Evra as the French defender threatened and both players would be left in a crumpled heap and limping away from the challenge. Proceedings continued at a steady boil as Nani had a crack at goal after shrugging off Raheem Sterling, but Mignolet, looking sharper with each passage of play, would do well to stop his powerful effort that curled low through the legs of Steven Gerrard.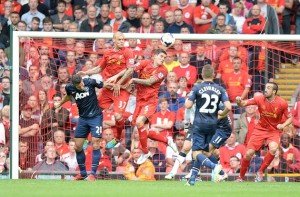 Glen Johnson would limp off the pitch to be replaced by Andre Wisdom with less than 10 minutes to go and the intensity around Anfield would skip an octive higher as Hernandez scuffed a shot into the ground and Mignolet, once again at the ready, would be equal to it. Coutinho would be replaced, to a standing ovation no less, with another youngster with minutes left to play as Rodgers looked to Luis Alberto to help his side hang on.
A Raheem Sterling handball would give United a free kick in a dangerous position; this late in the match, any set-piece was a cause for alarm, but Nani's freekick would fly high and wide over everyone and tamely out for a throw on the opposite side of the pitch. You had to wonder if there would be another chance when van Persie, quiet for most of the match, latched onto a beautiful Hernandez through ball, but the Dutch striker could only lash his shot into the side netting where you'd expect him to bulge the net. As Mignolet took the resulting goal-kick, you could almost hear David Moyes deflating in that all so familiar way.
Still, there would be some nervy moments to come as Lucas, solid as a rock throughout, fouled Tom Cleverley to give away a free-kick from the left wing. As van Persie whipped it into a packed box, Jose Enrique would be on hand to head the ball away as the fourth official signalled for five minutes of injury time — a virtual eternity if you were standing on the baying Kop. Into injury time Raheem Sterling would win a free-kick with some clever footwork as he forced Michael Carrick into a foul and the peppy winger would sting the fingers of De Gea on the counter-attack as moments later as Liverpool won the corner that would close out the match and see them claim their first win — a narrow one at that — over United in the Brendan Rodgers era.
There's little to complain about heading into the international break besides knocks to Sturridge — who Rodgers said shouldn't have even played today — and Johnson — who left Anfield on crutches — heaping on the concern. Though neither will feature for their country next week, the extent of their injuries will have to assessed in the coming days. For now though, three points against United and a seat at the top of the table gives food for thought; we won't end up here when the points are tallied up in May, but this kind of performance goes to shows that we will give each and every side we come up against hell along the way.
–Steven
All flash in the pan nonsense or a legitimately good performance from the Reds? Let us know in the comments after you give us a follow on Facebook and Twitter. Be sure not to feed the trolls…