Jordan Henderson vs Manchester United: Video and Stats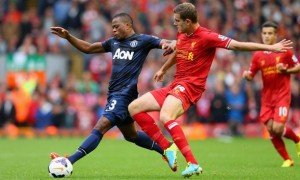 Former Liverpool striker Dirk Kuyt always had a good reputation at the club. The Dutchman wasn't the most talented forward, didn't score a lot of goals and had a first touch that would make anyone gasp in horror, but he made up for all his shortcomings with a work rate that would make even the great Bill Shankly proud.
The willingness to work hard and try for every ball is an endearing trait; there was no cause too lost for Kuyt, and even though it didn't always work out, the man never, ever stopped running. We saw a bit of that on Sunday, not from the Dutchman of course, but from Jordan Henderson. His performance in the Reds 1-0 victory against Manchester United on Sunday looked liked something out the Dirk Kuyt handbook. His willingness to press, to close down, to run, hassle and harry lead directly to the opening goal less than five minutes into the match — one that would end up being the winner.
Video by @MostarLFC
Henderson lends a foot

In his 90 minutes on the pitch, Jordan Henderson was one of Liverpool's key performers in their 1-0 win over arch-rivals Manchester United on Sunday. The England man has had a bit of a tough time endearing himself to the Red's supporters since making a big money move from Sunderland under former boss Kenny Dalglish, but after a few seasons on Merseyside, he seems to be finding his feet in a squad that encourages his style of play.

Despite scoring an extra time winner against Notts County on Tuesday, Henderson didn't take a single shot on net against United, but he did contribute offensively in other ways, playing 2 key passes to create 2 chances for his teammates. Out of the 39 passes he did attempt, he completed 83% of them; not a particularly great rate considering Rodgers insistence on finding your target and retaining possession, but not bad considering the team average was a measly 77%. To score the winner on Tuesday, Henderson took a page out of the Luis Suarez handbook and nutmegged a defender before slotting home. We didn't see anything quite that fancy on Sunday, but he did complete both of the dribbles he attempted – one in the first half and one during the second half injury time.

For much of the second hald we had our backs pinned against the wall and Jordan put in a good shift helping out the defenders. He won 50% of his challenges – including 2 out of the 3 tackles he attempted and 100% of his take-ons. His only real black spot defensively came in aerial duels where he lost out on all 4 of his attempts. Though the visitors created very little, Henderson was successful in clearing the ball out of a dangerous area each of the 4 times that he was called upon to do so and almost as critically gave away only 1 foul. Since we're terrible at defending set-pieces, this little stat was as good as gold.

Stats courtesy of Squawka and the LFC Opta Chalkboards
"It was a very important win to keep that momentum going," Henderson told the official website after scoring the winner against Notts County on Tuesday and he certainly kept it going with many fans quick to point out the youngsters work rate against United. The midfield man never seemed to tire and was quick to chase down any ball that came his way. Daniel Sturridge may have been the one to find the net, but it was the team that saw out the victory.
Liverpool are now the last side in the league with a 100% record – a fact that stands in stark contrast to the slow start they got off to under Brendan Rodgers last season. Despite the early doors optimism, the Northern Irishman refuses to talk about title challenges, quick to point out that there are still 35 more matches ahead of his team. "We won't be getting carried away. The team has a lot of improvement to do and there is a lot of work ahead of us" said Rodgers, who continued to insist that the top four, and the lucrative Champions League places, is his sides aim.
"The most important thing was to get the win. We would have liked it to have been a lot more comfortable, but things like that happen in football" said the Henderson after his goal ensured progression in the Capital One Cup. With Steven Gerrard getting up in years, the Skipper may not have the legs to see out all of those games and the contribution of Henderson, seen by many as a future replacement for the talismanic Captain, could play a key role in how Liverpool's season plays out. As long as they keep winning – comfortably or otherwise – that will do the majority of us just fine.
–Steven
What did you think of Henderson's performance against Manchester United? Did his workrate impress you or was it just a bunch of meaningless running around? Let us know in the comments — or you could hit us up on Facebook and Twitter. We'll be there too.