Daniel Sturridge Stirs Up Club and Country Row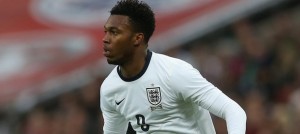 The News Desk knows you can't please everyone and in conversations about club and country, it's best just to keep your mouth shut. Daniel Sturridge, the young lad that he is, has yet to realize this and as he sits out England's World Cup qualifier with the Ukraine this evening, he decided to kick a hornets nest instead of a football.
"I'm more worried about Liverpool and more worried about putting in good performances for us" said Sturridge in an interview with the official website. "That's my main ambition – it's not about playing for England." While it might sound like the 24-year old is putting club far above country, there's sound reasoning to his logic that the striker was quick to point out — "if I don't play well here, I won't get the opportunity to do it there." Makes sense to us; if he's not putting in a strong showing week in and week out for Liverpool, he won't even get the opportunity to pull on an England shirt let alone make the final squad that will likely head to Brazil next summer.
Sturridge, who's scored 5 goals in 4 outings for the Reds this season, was forced to withdraw from Englands crucial World Cup qualifiers this month after he aggravated a thigh problem he'd been carrying during the Reds 1-0 victory over Manchester United over a week ago.
While most Liverpool fans will appreciate his vocal dedication to the cause, the torrent of abuse he's currently receiving on Twitter seems to suggest that Sturridge, who continues to struggle for fitness, is some sort of anti-England monster despite the fact that had he been fit he would of been leading the line for the Three Lions tonight. Maybe his comments would have been better received had they not come at a time when he's out injured. We're sure the next time young Daniel is asked, he'll be sure to give the standard diplomatic response instead of actually speaking his mind — it's just easier for everyone that way.