Brendan Rodgers Hints at Debuts and Updates on Injured Players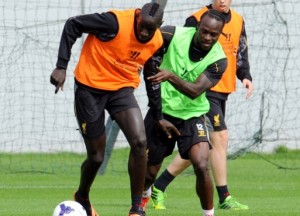 With Monday's trip to the Liberty Stadium coming up quickly, Brendan Rodgers took some time off from preparations to bring us up to speed on the fitness of not only Player of the Month Daniel Sturridge, but the rest of the casualties from Liverpool's extra -time victory over Notts County in the League Cup.
Both Glen Johnson – who Rodgers confirmed should be back for mid-October — and Aly Cissokho – who is apparently "a few weeks away" – are without a question ruled out of the Swansea clash, but the duo of Joe Allen and Kolo Toure will be looking for a recall after making good progress over the international break. Allen, who missed both of Wales World Cup Qualifiers with a hamstring problem, is sounding like the more likely of the two to make an appearance against his former club after making it through a training session this morning with no issues. "He looked good this morning and is certainly fighting for a place on Monday" said Rodgers in his pre-match press conference. The boss went on to say that Kolo Toure was "with our physiologists and is working well" before adding that the Ivorian defender "should be available for Monday."
Rodgers also confirmed that there's a possibility that new additions Victor Moses, Tiago Ilori and Mamadou Sakho could have a "part to play" in Monday's meeting with his former charges. The international break somewhat hampered the boys bedding in with the squad, but the boss is "analysing and assessing" and in the typical aloof fashion of the Premier League manager, the Northern Irishman assured us that we'll know "an hour before kick-off."
The real question on everyone's lips is the same as it was only minutes after Liverpool's 1-0 victory over Manchester United in their last league fixture and that surrounds the fitness of Daniel Sturridge. The English striker was confirmed as Player of the Month for August earlier this morning and the boss was once again aloof when asked about his availability for Monday. "I would suspect he will hopefully be fit. He won't be 100 per cent fit, but we'll see." Since he hasn't been fully fit all season, it doesn't sound like the boss is going to have any qualms about sending him out. Despite the fact that Sturridge is struggling to overcome an injury that ruled him out of England's World Cup Qualifiers with Moldova and the Ukraine, Rodgers was quick to point out that it's "perfectly reasonable" for the player to return from that kind of injury after "nearly two weeks" on the sidelines. As long as he doesn't get hurt any worse, the News Desk isn't about to argue.