Liverpool Look to Make History in Wales: Swansea City Preview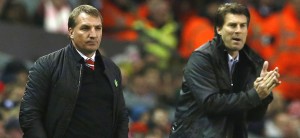 With the international break over, we're back to the football that matters and when Liverpool's rescheduled meeting with Swansea City kicks off on Monday, Reds boss Brendan Rodgers will be looking to write his name into the Anfield history books.
As unexpected as it may sound, the Merseysiders are in a Mexican standoff with Arsenal and Tottenham for top spot in the table, but the Reds hold the advantage having taken full points in their opening three fixtures while the Gunners and Spurs have both been hit with early season losses. If Brendan Rodgers can get out of Wales with full points on Monday, he'll be the first Liverpool manager to open the season with four wins out of four in the Premier League era. It's a lofty target, but not one that's out of their reach.
Swansea dropped their second match of the season 1-0 to Spurs when Roberto Soldado scored from the penalty spot, but they were on the money their next time out when goals on either side of the half from Ben Davies and Pablo Hernandez secured their first win of the season as they put West Brom to the sword. Jacks boss Michael Laudrup, who lead Swansea to a ninth place finish in his first season in charge, will be looking to juggle European commitments with life in the Premier League after the Welsh side beat the Reds enroute to League Cup glory last season. Despite scoring a pair against the Baggies, Laudrup rued his sides missed chances. "In the second half we have really dominated the game. I think we could have scored a couple more goals. We had some great chances" said the Danish manager.
Summer signings Jose Canas and Wilfried Bony are both adapting well to life in Wales after making high-profile moves during the summer transfer window, but Liverpool fans will be looking to a familiar face come Monday as former Reds midfielder Jonjo Shelvey is set to make his first appearance against his former side after sealing a £5mil move out east. Despite the close connection, it's safe to say that there will be no love lost between the two sides as Brendan Rodgers — who guided Swansea to the Premier League and secured an eleventh placed finish for the Jacks during their first top-flight season — returns to the Liberty Stadium.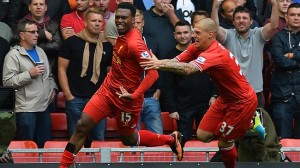 Swansea have lost four of their last six matches at home and with in form striker Daniel Sturridge — who has scored five goals in four games for his club this season — likely to make the starting line-up, another defeat could very well be on the cards. The England man has been the subject of some controversy after he was ruled out of the Three Lions World Cup qualifiers with a thigh problem and despite Rodgers confirming that it was the English medical experts who had the final say, Laudrup still finds the whole thing a bit fishy.
"I was a little surprised about that. I thought there were some rules that if you were injured you couldn't play for your team three or four days later" said the Jacks boss when reports started to come out that Sturridge should be fit for Liverpool's visit. Rodgers, on the other hand, has stated numerous times that it's "perfectly reasonable" for the striker to play after it had been "nearly a week" since England's last qualifying match. Maybe it's sour grapes from the Danish manager, or maybe it's just fear, but if we're not mistaken, Daniel isn't the only one in the Liverpool set-up that knows how to find the net.
In his pre-match press conference, Brendan Rodgers hinted that the new boys could play some role in proceedings. With Kolo Toure an injury doubt, former PSG defender Mamadou Sakho could step in and take the place of Martin Skrtel as Daniel Aggers partner despite the Slovakian putting in a good showing against Manchester United. There could also be a place for on-loan winger Victor Moses in the Reds attack as Rodgers looks to give Philippe Coutinho a more central role. Even though he struggled to find the net last season for Chelsea, Moses remains a goal-threat in the Premier League with Rodgers calling the Nigerian winger "an intelligent footballer" and a player with "a lot of potential."
At the back, Andre Wisdom is expected to replace Glen Johnson, who has been ruled out for 5 – 6 weeks with a high ankle sprain, but the Northern Irishman isn't expected to make too many other changes from the side that dispatched United just over a fortnight ago. Both Steven Gerrard and Jordan Henderson are expected to retain their places in the middle of the park with Lucas in his normal holding role, but there could be a cameo for Swansea old-boy Joe Allen with the diminutive midfielder recovering from a hamstring problem to put him into contention for a run out against his old side. No matter who takes the field, Rodgers has to make sure they understand what's at stake.
A slow start to the season cost us last year as we found form in the latter stages of the campaign. We couldn't have asked for a better start this time out and though most Reds fans have tempered their expectations accordingly, widing a wave of good form never hurt anyone. Come Monday, the boys not only have a shot at making Liverpool history, but they can go three points clear at the top of the table after Chelsea lost to Everton yesterday. At the end of last season, I never thought I'd be typing those words — to be honest, I enjoyed that last sentence immensely.
GET IN.
–Steven
Got something to say? We've got a comments section that needs a workout if you're so inclined. If you're more the social media type, you can find us on Facebook and Twitter — just like everyone else on the planet.