Liverpool (0) Southampton (1): Saints Shock Reds to End Unbeaten Run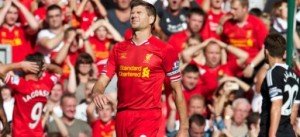 And just like that, it all falls apart; a header from Dejan Lovren in the 52nd minute was enough to hand Saints boss Mauricio Pochettino all three points at Anfield today and arguably his biggest win since taking over at Southampton in January.
The Reds, who were top of the league this morning, were looking to make their best ever start to a Premier League season after wins in their first three matches and draw on Monday night gave them a tenuous foothold at summit. Despite the lofty heights they'd already reached, many Liverpool fans — and the manager himself — refused to get carried away and after turning in a pedestrian performance today, it made perfect sense why the sensible kept their feet rooted firmly to the ground.
Southampton handed Brendan Rodgers his last defeat in the league — a 3-1 reversal at St Mary's in the middle of March — and it no surprise when that same hard work and tenacity that they exhibited last year saw them punish his side again. An odd back four that consisted solely of central defenders left a few scratching their heads pre-game and with Iago Aspas called into the side in place of the injured Philippe Coutinho, there were questions right off the hop about whether or not this team was the right one on the day.
Jordan Henderson's tame shot would be easily stopped by Artur Boruc and Lucas, who hasn't scored in three years, would had a rare pop on net in the early exchanges as the Reds looked to open the scoring early. Boruc — who would be superb on the day — was called into action again with a highlight reel save to keep out a Steven Gerrard freekick that was clearly heading for the back of the net. Straight away Rickie Lambert would have two chances in quick succession to put the visitors ahead, but a combination of Kolo Toure and Simon Mignolet would keep the English striker off the boards and the home side in the drivers seat.
Another start for on-loan Chelsea winger Victor Moses meant we had pace to run on the flank and Iago Aspas would use that to our advantage on the counterattack by easing the ball into the path of the onrushing Nigerian. As Boruc raced out to close the angle, Luke Shaw would steal the ball off Moses's toe as the winger looked to chip the soon to be stranded 'keeper. A second freekick from Steven Gerrard would turn the screw only moments later, but Daniel Sturridge would miss out on a stonewall penalty after the striker — a bit quiet by his own lofty standards — was clipped by Lovren just inside the area.
It was all one-way traffic for a short while and Boruc would come up with another good save when he turned away a poked shot from Moses who had nutmegged José Fonte in the buildup and a looping header from Daniel Sturridge would fly just over the crossbar as the Reds closed out what was a frustrating half.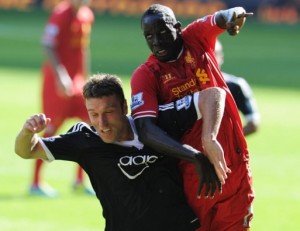 Before the match, much was made of Southampton having yet to score a goal from open play in the league this season and Liverpool not scoring once outside of the first half. By the fulltime whistle, nothing had changed. Raheem Sterling, having impressed in the reserves comeback victory over Sunderland midweek, would replace Iago Aspas at the break, but the trickery of the youngster would do little for the cause — the implosion was on the horizon.
After Lallana forced Simon Mignolet into a reflex save after a bizarre passage of play, Martin Skrtel would slip on what should have been a routine ball recovery and Kolo Toure would have to rush across clear away for a corner — one that would end with former Lyon defender Dejan Lovren out maneuvering Daniel Agger to head the Saints in front.
Dani Osvaldo wasn't about to rest on his laurels and would almost double the visitors lead straight off from the restart, but Mignolet would get fingers on his low drive to keep it out as the Liverpool defense went to sleep. Jose Enrique would replace Daniel Agger and Steven Gerrard would see another spectacular freekick batted away by Boruc, before a perfectly timed sliding tackle from Mamadou Sakho denied Osvaldo and Mignolet produced a unbelievable triple save to keep the Reds in the hunt.
Luis Alberto would replace Martin Skrtel as Rodgers withdrew his second starting centerhalf, but it would be all pedestrian from here on out. Sturridge would show his selfish side after Gerrard found the him in space and with a number of bodies in the box, the striker would try to curl an audacious shot into the top corner instead of looking for a cross. Liverpool's day would be summed up just before stoppage time when a rare spark from the home side would see Sturridge play a ball over the top for Raheem Sterling to run onto, but the youngsters first touch would let him down as it rolled safely into the arms of Boruc.
The pragmatists were right not to get excited and after a performance like that, it's hard to remember what got us so worked up in the first place. Liverpool, and our prospects as a whole, remains a mixed bag. The optimists are quick to say that our first defeat in the league in twelve matches isn't cause for alarm, but the manner in which it came about is hard to discount. It's still early days and though we're on ten points after five matches where last season we were only on two, the naysayers will use the quality of opposition we took those points from as a stick with which to beat a Liverpool side in obvious disarray.
There's more to say, but I'll save that for when some of the pre-match positivity regenerates; I don't like being a cranky bastard.
–Steven
What do you think? Did Rodgers make a fool out of us all or does the man deserve a break? Have a go in the comments or let us know on Twitter or Facebook.