Luis Suarez Starts, But Daniel Agger Misses Out Against Manchester United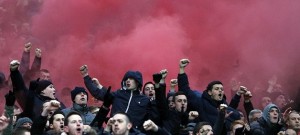 Liverpool boss Brendan Rodgers raised some questions a few days ago about whether returning striker Luis Suarez would start against Manchester United, but with the team sheets out, the Uruguayan has earned himself an immediate recall to the side.
Suarez – available once again after completing his 10-match ban for biting Chelsea defender Branislav Ivanovic last April – will join in-form England man Daniel Sturridge and loanee Victor Moses in attack. The real question now is if the Uruguayan will be playing up front or not amid rumors that he would be pushed wide to accommodate Sturridge. Rodgers prefers a fluid front line, so even if Suarez does find himself out on the wing, positions can quickly change throughout the match.
Captain Steven Gerrard retains his place in the middle of the park along with the hardworking pair of Lucas and Jordan Henderson, while Daniel Agger misses the trip to Old Trafford – likely as a pre-caution – after being substituted in the Reds 1-0 loss against Southampton on Saturday. Martin Skrtel and Mamadou Sakho will start in the heart of the Reds defense while Jose Enrique and Kolo Toure – one of the few players to come out of Saturday's loss with his reputation still intact – will occupy the flanks. There's no surprise that Simon Mignolet, who was essential in keeping the score line respectable in Liverpool's last outing, keeps his place between the sticks.
David Moyes has made a handful of changes from the side that lost 4-1 to Manchester City on Sunday; David De Gea retains his place in net while Rafael, Jonny Evans, Chris Smalling and Alexander Büttner make up their back line. Nani, Jones, Ryan Giggs, and Shinji Kagawa all make the starting eleven while Wayne Rooney – United's sole goal scorer on Sunday – starts alongside Javier Hernández after Robin van Persie was deemed not fit enough to play.
Be sure to pop by after the match for a full – hopefully happy — match reaction.