Lucas Ban Could Put Jordan Henderson in the Middle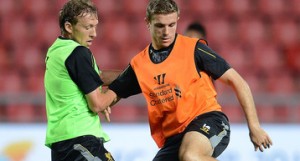 Lucas picked up his fifth yellow card of the season in the Reds 3-1 win against Sunderland on the weekend and now Liverpool boss Brendan Rodgers is faced with a bit of a conundrum: who is going to take the Brazilian's spot in the squad when Crystal Palace visit Anfield this weekend?
What you might think about the midfield man aside, Lucas has engrained himself into Brendan Rodgers set-up and love it or hate it is a integral part – for now anyways — of the Liverpool set-up. Although the real question should be "How did he get a ban before October?" that's unfortunately not the reality of the situation – though his unfortunate absence, and the injury to Joe Allen, could give Jordan Henderson a shot to impress in his preferred central role.
The former Sunderland man has been playing all over the park in what has been a mini-resurgence this season. We've seen him on the wing, in the center and most recently as a wing-back as Brendan Rodgers tries out a formation with three at the back. Although the midfield man has impressed no matter where he's played, with the Brazilian sitting the next one out, the industrious Henderson could be shifted back into the middle alongside Steven Gerrard. Seeing the Englishman back in the middle is something that probably wouldn't surprise Lucas.
"Jordan is a player who is growing and improving all the time" the Brazilian told the official site in a recent interview. "We can see that he is an important member of the team. He can play in a lot of positions and he always does what the manager wants and that makes him a very important player for us." Moving Henderson, who played his 100th match for Liverpool in their victory at the Stadium of Light on Sunday, back to the middle could also allow Martin Kelly a way back into the first team after the big defender made a cameo appearance in the Reds defeat to Manchester United last week after a long injury lay-off.
What do you think? Henderson in the middle for Lucas, or is there a better way?