Victor Moses Wants to Contribute More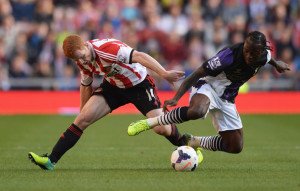 Heading into this weekend's meeting with Crystal Palace, you have to wonder if Liverpool boss Brendan Rodgers is going to persist with slotting Victor Moses into an uncertain, and unfamiliar, role in the center of the park. With Philippe Coutinho on the treatment table until the end of the month, the Nigerian has be shifted to the center and for long portions of Sunday's 3-1 win over managerless Sunderland, the former Wigan man went missing.
Moses was arguably our best performer in the 2-2 draw with Swansea City and there was little surprise that performance was put in from his preferred left-wing position – and the way he was playing, there was little surprise that he found the net. "I've just got to keep on playing and keep on helping the team out. I want to try and score more goals" the Nigerian told the official site."I've played four games already and I want to create goals for my teammates and score myself."
Brendan Rodgers is known to prefer players that are adaptable and can play in a number of positions – and we've seen that with more than just Moses so far this season. Jordan Henderson has been shifted to wing-back, Mamadou Sakho has played left fullback, Luis Suarez has spent some time on the wing and Kolo Toure has played all across the back line. This, it would seem, is not a problem for the former Wigan man. "As long as I'm on the pitch, I just want to keep enjoying myself. The more games you play the more experience you get" said Moses. Although this is the right attitude to take, it begs the questions whether he's being utilized properly.
While an attacker like Iago Aspas or Luis Alberto could be better utilized in this role, it looks like Rodgers will be sticking with Moses for the time being; no matter where he turns up on Saturday – and there's little doubt that he'll be in the starting eleven – he's going to be looking for full points. "We're doing really well. We're second in the league and we need to keep that going and keep winning games" enthused the winger. With Premier League strugglers Crystal Palace coming to Anfield on Saturday, maybe Moses will find his feet in an unfamiliar position.