Here Comes the King: Kenny Dalglish Returns to Liverpool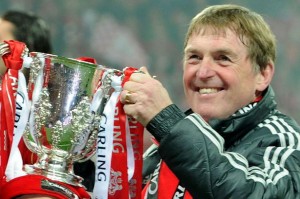 If there are two things that Liverpool supporters have come to bank on, it's that the team will play in Red and that Kenny Dalglish will play some role, in one capacity or another, within the club.
Those two things are as right as rain and that's why it comes as no surprise that less than two years since the King was relieved of his duties in the Liverpool dugout, he's been invited — and has accepted — to return to the club as a non-executive board director with immediate effect after holding discussions with the clubs owners, managing director Ian Ayre and Brendan Rodgers. In the wake of the announcement, it's hard to tell exactly who's the most excited.
"I have always said if there is anything I could do to help I would make myself available," said Dalglish, who continued, "I am looking forward to working with the board of directors and contributing to the strategic issues that affect Liverpool Football Club."
Despite winning the League Cup and guiding the club to an FA Cup final which they narrowly lost, domestic results during the Kings second coming were less than acceptable and he was somewhat surprisingly relieved of his duties at the end of the 2011/2012 season. Say what you will about Fenway Sports Group — who owns Liverpool as well as a number of other sporting interests — but they've come to recognize that tradition, history and family mean a lot to Reds fans and that the King will always be a part of the club no matter what.
Whether you believe in FSG's long term vision for the club or not, engaging Dalglish in another role is something they've no doubt been trying to do for some time. "Kenny has a unique insight on the values and traditions that helped to make Liverpool one of the greatest sporting institutions, not just in football, but in world sport. We are proud and honoured to have him back at the club he has represented with such distinction" said Liverpool principal owner John W. Henry.
The word "legend" is thrown around quite a bit in football, but Dalglish is one of the few that have truly deserve the moniker. It's not only his six league titles, four League Cups, an FA Cup and three European Cups that make him an unmistakable Kop Idol, it's his connection to the club and it's fans that truly endears him to Reds around the world — from the terraces, the pubs and the living rooms around the world all the way to the Liverpool dugout.
"When I met with Kenny to discuss this appointment, I was struck by the passion and drive he still has in wanting to see Liverpool return to where it should be – one of the most successful clubs in the world" said incumbent Liverpool manager Brendan Rodgers. While some bosses may see an appointment such as this — a club legend overseeing "strategic issues" — through a suspicious, almost indignant eye, you get the sense that Rodgers knows this will be good for the club and that's all that matters. The King would no doubt agree.
"It is an honour and privilege to be asked to return to Liverpool" said Dalglish. "Liverpool has given me and my family so much since we came here just over 36 years ago and my priority is and will always be to have the club's best interests at heart."
Welcome back Kenny — it's nice to see you again.
–Steven