Jordan Henderson vs Crystal Palace: Video and Stats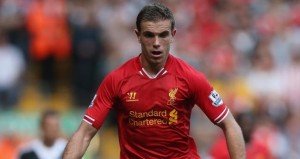 Liverpool is better with Lucas in the side; there are numerous articles and stats floating around to back up that claim if you're not yet a believer, but the Brazilian, as we've seen, isn't always going to be available. Whether it's an injury lay-off or an accumulation of yellow cards, sometimes the Reds have to go without their midfield enforcer – such as last Saturday's 3-1 win over Crystal Palace.
Much like Lucas, Jordan Henderson spent his early days on Merseyside having his ability questioned by not just the media, but large swathes of the Liverpool faithful. A number of stand-out performances in different positions this season earned him a recall to his preferred central role on Saturday where he impressed not his old doubters, but the boss himself. "He's a very humble boy and I enjoy working with players who have an appetite every single day to improve their game and to learn, and then they go out on a Saturday and give their all" said Brendan Rodgers. With the amount of work Henderson put in making even my calves hurt, I'm certain the midfielder gave it his "all".



Video by @MostarLFC
a caption

Filling in for a player like Lucas is no easy feat, but over the 90 minutes Jordan Henderson put in on Saturday, he certainly staked his claim for another look in a central role.

As expected, Henderson spent the bulk of his time in the middle of the park – but mostly in the Palace half and around the center circle with 34.45% and 22.69% of his time chalked up there. With Raheem Sterling slotting in at wing-back, there were always going to be concerns that the youngster would be able to handle an unfamiliar role on his own, so the midfielder also drifted out over there, spending 9.24% of his time there.

Although he'd only take 1 shot the entire match – a blocked effort in the 45th minute – Jordan wasn't playing an attacking role. His primary objective was to regain and retain possession and he did it with aplomb; we saw an astounding 92% of his passes finding their intended target — including 12 long balls – and a 21m average pass length.

If moving the ball doesn't impress you, Henderson also won 73% of his total duels — including 5 out of his 7 attempted tackles – which is a step up from his average of 41% of his duels being won over our opening six fixtures. The midfielder was successful in his only headed duel and also made 2 crucial interceptions. Although Crystal Palace rarely threatened, Henderson was on hand to clear the ball 4 times – for a %100 success rate.

Stats by Squawka
Despite earning some much deserved plaudits, the midfielder is keeping a calm head about it. The Reds, who are tied on points with first place Arsenal, still need to improve and Jordan knows the squad is going to have to work hard to keep pace. "We've just got to keep going and doing what we've been doing, to be honest; keep making sure we get good results and trying to improve our performance" said Henderson. Brendan Rodgers doesn't always single players out for individual praise, but Jordan's work rate has impressed on the boss.
"His diligence defensively is also very good as he gets back in, covers and screens. He has done very well in that position, but of course probably his most favourable role would be central" said Rodgers, who continued, "Wherever you play Jordan, there's no drop-off. You get the same work rate and mentality." Since the season kicked off in the middle of August, Henderson has popped up all over the field: right wing, holding midfielder, attacking midfielder and right wing-back. That's impressive for any player, let alone one his age.
While Liverpool sit in a rather unexpected slot in the table, Jordan, for now, is just focusing on getting better and repaying the faith Rodgers has shown in him. "I'm enjoying playing football" said Henderson. "I've been loving every minute of it and hopefully I can keep working hard in training and keep playing." If he keeps playing the way he has, I'm sure we'll be seeing more of him real soon.
Steven
Like this post? Share it out on your social network of choice; you can also like us on Facebook or follow us on Twitter.