Both Rodgers and Henderson See Room for Liverpool Improvement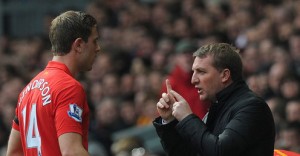 The international break has officially kicked off and for the next hour or so Liverpool's place at the top of the table is secure after beating Crystal Palace 3-1 yesterday. Although topping the table yet again should be a cause célèbre, both Brendan Rodgers and Jordan Henderson think we can do better.
Rodgers, speaking with the BBC after his team picked up their 16th point of the season, was critical of his side after another poor second half performance saw the Eagles — down by three goals at the break — gain a foothold and eventually claw a consolation goal back. The Northern Irishman would start off by praising his teams newfound ability to win games "even when we don't play at our best", but his conciliatory tone turned into one of genuine concern when discussing the teams performance.
"It's not enough to just win games, for me, I'm very much someone who worries about playing well," said the former Swansea boss. Rodgers received a number of plaudits for the way his Swans side played the game during his first and only season with them in the top flight. Despite bringing about sweeping changes in his first season on Merseyside and reaping the rewards during this campaign, the boss confessed that the side will "need to improve our level" going forward.
A good shout for yesterday's Man of the Match — Jordan Henderson — agrees. "Going forward we were outstanding, the front players and attacking players were brilliant – flair and getting goals" said the former Sunderland midfielder, but he too saw holes that needed to be plugged. "Obviously we can improve on controlling the game a little bit better and keeping the ball. That's what we'll look to improve on but the main thing is we got the three points."
Henderson, who was filling in for the suspended Lucas in the middle of the park, put in a performance that made you wonder why the Brazilian is nailed on for that position anyways. If Rodgers thinks we can improve our game, maybe he can start by switching Jordan centrally on a more regular basis; you know, like, always.