Liverpool (2) Newcastle (2): Gerrard Scores His 100th as Reds Draw on Tyneside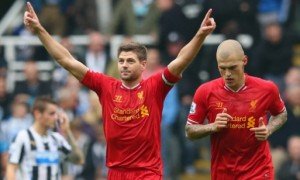 Tim Krul saved a Luis Suarez freekick as the last chance of the match went begging and Liverpool shared the points with Newcastle at St. James's Park. The Reds came from behind twice with Steven Gerrard scoring his 100th Premier League goal and Daniel Sturridge saving Brendan Rodgers men from a second defeat of the season.
The draw sees Liverpool lose a march on Arsenal who shifted away, if only slightly, from the chasing pack with a win today, but very few expected the Reds to be racking up points the way they've been. While Brendan Rodgers somehow continues to keep his side punching above it's weight, it's hard to recall a match this season where they put in a good 90 minutes worth of football — a horrible trend that yesterday kept right on keepin' on.
At the end of the day, a point on the road is better than nothing, but when Yohan Cabaye opened the scoring with a dipping, swerving, peach of a shot, you got the distinct feeling that we were going to end up leaving Tyneside empty handed. The two sides — no strangers to each other or high scoring affairs — had exchanged early blows until the Reds backline retreated from the onrushing Frenchman.
Simon Mignolet had no chance with Cabaye's countryman Mamadou Sakho blocking the Belgian's line of sight, the ball taking a satisfying bounce before nestling in the bottom corner; it was a goal even the visitors had to give a nod of approval to as the midfielders sublime skill put Alan Pardew's men in front. Glen Johnson and Aly Cissokho both earned themselves immediate recalls to the squad after more than a month out and the fullbacks were dangerous down either flank as the Reds attempted to turn the screw, but the visitors best chances came from set-pieces with Cissokho and Martin Skrtel putting headers off target in quick succession — chances that either should have taken.
Newcastle was starting to look the better bet to double their advantage after Moussa Sissoko had a well taken shot batted away by Mignolet until Mapou Yanga-Mbiwa — who always looked like imploding — tugged down Luis Suarez in the box after the Uruguayan expertly collected an over-the-top pass from Daniel Sturridge. Referee Andre Marriner showed no hesitation in showing the Frenchman a Red card or sending Steven Gerrard to the spot for the Liverpool captain to slot past Tim Krul for a milestone 100th Premier League goal.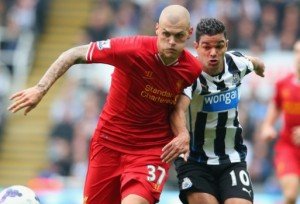 Paul Dummett, who came on after Yanga-Mbiwa's dismissal, would shock the visitors early in the second half as the Reds once again showed their frailty from set-pieces. My heart skips a beat at every dead ball situation and this one was no different — Kolo Toure and Martin Skrtel both made a hash of the it while Aly Cissokho just sat back and watched while Dummett ran unchecked to tap in at the back post. The Reds, who up to this point held, and did very little with, a man advantage for almost 15 minutes were once again behind.
More corners for Liverpool continued to bring no joy and it wasn't until the introduction of Luis Alberto — on for Mamadou Sakho — that we finally kicked the match into a higher gear and take advantage of our numerical superiority; which, of course, we did just over ten minutes later and there was little to no surprise when it came through Luis Suarez. It was the SAS combination that lead to Gerrard drawing the visitors level in the first half and the pair of them did it again in the second. After beating Mathieu Debuchy, Suarez worked his way to the by-line and sent in a teasing cross for Daniel Sturridge, who split a pair of Newcastle defenders on his way to the net, to head home.
The Uruguayan, who was in desperate need of a goal of his own, smacked the crossbar with a volley after Sturridge narrowly missed turning Luis Alberto's low cross into his second of the match and he'd come within mere inches of sealing the deal well into injury time with a dipping free-kick, but Krul got a hand to the ball to ensure Alan Pardew didn't suffer his second home defeat to Liverpool in as many meetings.
Even though we started the day joint-top with Arsenal, knowing that we'll remain in a Champions League spot until at the very least next weekend is a tad surreal. Falling off the Premier League summit admittedly kinda sucks, but when you never expected to be there in the first place it doesn't feel quite as bad — still, it's evident that if we want to remain in the upper echelons of the table, and in the very least pushing hard for a European spot, Brendan Rodgers is going to have to step on the peddle that keeps Liverpool revved up over 90 minutes.
An early kick-off? Sure. The first match back from an international break? Understandable. Players returning from injury into a formation they're not that familiar with? Fine. A pair of crucial Brazilians missing out? Reaching. The Reds playing a full match without looking like Jekyll and Hyde? Next weekend, please.
–Steven
What'd you think? Can we challenge for glory on the heels of that performance or are we going to have to kick it up a few notches if we're going to survive the season? Let us know in the comments or find us on Twitter or Facebook and get social with our media.