Luis Alberto vs Newcastle: Video and a Promising Performance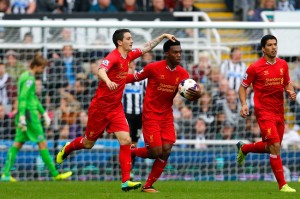 There's little doubt that Liverpool have missed Brazilian midfielder Coutinho since he left the field injured during the second half of the Reds 2-2 draw with Swansea City back in the middle of September.
We've missed the little magicians creativity through the middle, his ability to hold off a player, the inch perfect through-balls and the way he retains possession. On-loan Chelsea winger Victor Moses has stepped into the middle of the park in an attempt to fill-in for the Brazilian with little success. The Nigerian is a wing man, not a number ten, so it's hardly his fault, but when Mamadou Sakho was replaced by fellow summer signing Luis Alberto during this weekends draw with Newcastle, we saw a player that could be an adequate stand-in for the Little Magician.
Video by LFCMrBoywunder
Maybe it was the man advantage affording the youngster more time on the ball then he'd normally get at this level, but when Brendan Rodgers switched to a more orthodox 4-4-2 formation upon the arrival of Alberto, the Reds just looked better. The Spanish youngster was given free-reign to drift in from the right wing and made an immediate impact.
Comfortable on the ball, not afraid to move it around, head-up and ready to receive it, Alberto looked just as comfortable at St. James' Park as he did when he scored a second-half hat-trick against the Sunderland reserve squad in September. A neat pair of crosses saw a marginally offside Daniel Sturridge shoot just wide of the net and Victor Moses, shifted out to the left wing, found all alone at the by-line after a scramble in the center of the box.
The Spaniard may have only made 4 appearances for the first team this season — with all of them coming from the bench — but we've seen youngsters step up and make themselves known before and that's exactly what he did on Saturday. Martin Kelly, Andre Wisdom and Raheem Sterling are three players that quickly come to mind and though Alberto isn't ready for prime time quite yet, if he keeps putting in performances like that he could be the fourth player on an ever growing list — and a starter next weekend against West Bromwich Albion.
–Steven
Did Alberto change things on Saturday or are we just seeing things? Let us know in the comments or you can find us on Facebook or Twitter with the other delusional folk.