Martin Skrtel and Mamadou Sakho Keeping Standards High to Keep Their Spots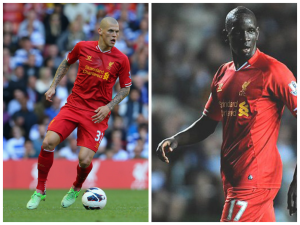 When Brendan Rodgers first switched things up and set out with a 3-5-2 formation, it looked like an experiment. Although it may have been something he was just trying out over the last couple of weeks, it looks like something we're going to get accustomed to – and if Martin Skrtel and Mamadou Sakho keep playing the way they are, that's not a bad thing.
The pair, alongside Kolo Toure, has been keeping the ship steady as the Reds enjoy their best league start since Roy Evans was in the Liverpool hot seat. Despite their lofty position, Skrtel knows he has to be at his best to remain in the side after finding himself on the outside looking in for the second half of last season. "I am very happy. I am playing every game and trying to do my best for the team" the Slovakian defender told the Liverpool Echo. This, of course, comes in sharp contrast to stories that were circulating just a few weeks ago.
Skrtel looked set to leave Liverpool by the end of the summer transfer window, with Napoli and a reunion with Rafa Benitez looking the most likely, but with a slot in the starting eleven reclaimed, the big center-half is enjoying his football again – and relishing the competition. "It's important because it pushes everyone to do better. You have to show what you can do every day in training and you know that if don't perform there's someone waiting to take your place" mused Skrtel.
With vice-captain Daniel Agger pushing for a recall, and with his ability to play pretty much anywhere across the back, everyone is on high alert – including Brendan Rodgers seventh signing of the summer, Mamadou Sakho. The French import has earned some well deserved plaudits over his first five league matches in a Liverpool shirt, but he's not paying any attention to the praise. "I'm not yet at 100 per cent; I'm progressing with each match that we have" Sakho told the official site. "I work every day at training sessions to progress and to achieve the highest level."
After three matches out, the 23-year old made a return to Didier Deschamps' France set-up and played the second half of Les Bleus friendly against Australia. Before the break Sakho admitted that one of the main motivators behind him leaving boyhood club PSG was to secure a spot in the national team for next summer's World Cup; "I have to reach my own goals and I do everything to achieve those goals. I work every day and I'm super proud to be back with the national team that I'm a member of" enthused the French center-half. It's safe to say that if he can keep this standard up for the rest of the season, he might as well call his travel agent now.