Jordan Henderson Hoping to Spend the Summer in Brazil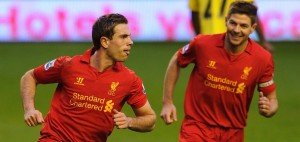 He played in England's quarter final defeat to Italy at Euro 2012, but Liverpool midfielder Jordan Henderson has been conspicuously absent from the Three Lions set-up ever since and took no part in the World Cup qualifying program. On the back of some impressive performances for the Reds, the former Sunderland man is looking to change that and find himself on a plane to Rio next summer.
"Everybody wants to play for England and I am no different, said Henderson, who continued, "But I still have a long way to go to where I want to be. I need to improve. "After a shaky start on Merseyside, the 23-year old has found himself back in the starting eleven consistently and very much a part of Liverpool boss Brendan Rodgers plans – though, he's without a nailed on position.
Right wing, right-midfield, right-wingback, central midfield and defensive midfield, Henderson has played through his fair share of roles so far this season and it doesn't look like it's going to stop anytime soon. We did get to see him in his preferred central role over the last two matches with Brazilian midfielder Lucas absent – first through suspension and then for personal reasons – and though he looked a little out of sorts at times, you could see that his experience playing all over the pitch was benefiting him.
"I feel as though I have improved 100% since I have come to Liverpool. I look at my game when I was younger, and you compare my game now I think I have improved massively. Hopefully I can carry that on" enthused the midfielder and with a spot in Roy Hodgson's squad for the World Cup in Brazil the ultimate goal, Henderson will be looking to not only carry on his good form, but push it even farther. "If I keep playing well then hopefully I will get an opportunity with England" said the midfielder – and in the meantime, Liverpool will reap the rewards.