Coutinho to Return "After the Weekend"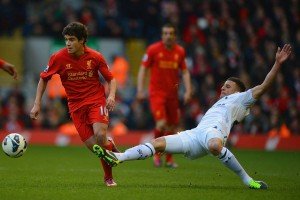 It was widely reported last weekend that Brazilian midfielder Philippe Coutinho was close to making a return to the Reds first team after suffering a shoulder injury in Liverpool's 2-2 draw with Swansea City last month, but Brendan Rodgers has confirmed that he's not quite ready to re-join the fray.
"He has re-joined training with the group. He's been on the field doing a lot of physical work "said the Kop boss ahead of his sides meeting with West Bromwich Albion this weekend and although its positive news, it's going to be a little while longer until the 21-year old is able to return to competitive action."He might just be short for this weekend," said Rodgers, who continued, "He has joined in with the team on a non-contact basis."
Although the Reds are in third place – only two points off Arsenal at the top – they've struggled to bridge midfield to attack since the Brazilian went down injured in Wales. On-loan Chelsea man Victor Moses has admirably attempted to fill the Number 10 role in his absence, but the winger has shown on more than one occasion that he's not a player suited to a central role. Rodgers of course stopped short of criticizing Moses – which would of course be undue – though he did say the side "miss the quality" Coutinho brings to it.
With a trip to the Emirates Stadium on the cards next weekend, there has been suspicions that the Brazilian is being "saved" for the trip to North London. Whether that's true or not, the Liverpool boss is expecting the youngster to make a return post-Baggies. "I think, after the weekend, he'll be fine. He has got really good strength in his shoulder now; it's just getting him up to speed in training and joining the group." As the Reds embark on what should be a difficult couple of weeks, Coutinho returning to the squad will be a major boon to Brendan Rodgers cause and the Reds Champions League aspirations.