Coutinho Given the "All Clear" to Return for Arsenal Clash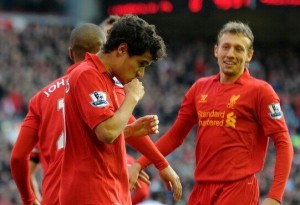 Although the News Desk isn't sure if Brazilian midfielder Phillipe Coutinho will be ready to start on Saturday night at the Emirates Stadium, according to Liverpool manager Brendan Rodgers, the little magician has been given the "all clear" to return to action.
There were whispers that he could be fit for the trip to St. James Park two weeks ago, but the boss quickly put those rumours to rest ahead of the Reds empathic 4-1 win over West Bromwich Albion last Saturday and targeted the visit to table-topping Arsenal for the influential midfielders return – a target the Liverpool medical team have evidently met. "Jose will be a question mark for the weekend, but Coutinho is great" said the Reds boss who continued "He's been given the all clear by the specialist to come in." Good news for us is bad news for the Gunners.
Liverpool has looked somewhat disjointed since Coutinho was injured in the 2-2 draw with Swansea City last month. On-loan Chelsea man Victor Moses has attempted to bridge the gap between midfield and attack in his absence, but the unfamiliar position didn't bode well for the Nigerian and he was replaced by Steven Gerrard in the Number 10 position during last weekend's win against the Baggies. While it's hard to fault Moses for not excelling in an unnatural position, it's going to be nice to have a natural playmaker back in the side.
"He's been training for the last few weeks, so he'll come back into the squad" said Rodgers – though there are concerns that rushing the youngster back too soon could do more damage than good. The midfielder's shoulder surgery was a success, but the club may be better to bring him back slowly rather than force the issue by putting on too much too soon. At least coming back against the Gunners should give him a break from the kicking he usually gets – Arsene Wenger's side isn't stocked with the kind of hack merchants he might encounter during the some other matches.