Brendan Rodgers Knows Coutinho's Special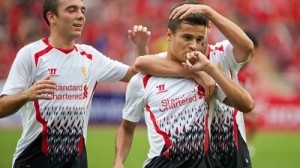 He couldn't prevent a 2-0 defeat at the hands of league leaders Arsenal, but the introduction of Philippe Coutinho at the half-time break certainly improved Liverpool's chances – a fact that wasn't lost on Reds manager Brendan Rodgers.
Along with water being wet, food tasting good and the sky being blue….errr….gray, Rodgers also understands what an important role the diminutive midfielder will play in the Anfield club's season. "He's a wonderful player and we would've loved to have started him, but he's only come back into the fold and got the medical clearance in the last couple of days. But his introduction gave us the opportunity to control the game more with the ball" explained the Northern Irishman.
The boss isn't the only one praising the Brazilian – Ivorian defender and new Kop idol Kolo Toure also had some kind words for him following his return to the lineup."I call Coutinho my player, my best player, because I think he is amazing. He makes the difference" said Toure, who continued "This season he has been injured and when he will come back, I think he's going to be amazing this season, definitely."
After missing six matches through injury, there was speculation that he'd be thrown directly into the fire upon returning to fitness, though Rodgers decided to take the more cautious approach. "We brought Coutinho on and he made the field a little bit narrower whilst allowing us to maintain the two up front. And he was terrific when he came on" enthused Rodgers. Whether or not the Brazilian will make a full return to the line-up this weekend against Fulham remains to be seen, but there's little doubt that he'll play some part – and that he'll show his importance throughout.