High Praise for Flanagan Following Enrique Surgery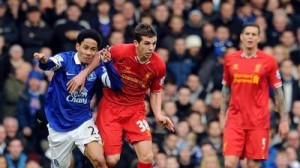 Liverpool boss Brendan Rodgers and club captain Steven Gerrard both had high praise for derby débutante Jon Flanagan following the youngster's stand-out performance against cross-town rivals Everton on Saturday. With the news that first choice fullback Jose Enrique will be out for the next ten weeks, the odds that Liverpool will return to winning ways this weekend over at www.888sport.com are looking better than ever now that the Spaniard won't be missed nearly as much as expected.
The club confirmed that Enrique had undergone successful arthroscopic surgery to fix an ongoing issue in his right knee and is "expected to return to full training at Melwood in around 10 weeks' time." For the time being, Flanagan has seemingly won the war to replace the fullback after putting in an impressive shift – out of position as well — in last weekend's Merseyside Derby.
"If he plays like he did against Everton, he is going to get football," said Reds boss Brendan Rodgers who went on to praise the youngster's mindset. "I have seen enough of him. I have seen enough of him in training. It doesn't matter whether he is playing in front of six people at the reserves or in front of 90,000. He is the same. He doesn't get affected. "
Liverpool has made an impressive start to the season and despite picking up only one point at the weekend, remains within shouting distance of league leaders Arsenal in second place. As the Reds continue to churn out performances befitting their lofty position, Steven Gerrard likened Flanagan's performance to something a certain local legend would have turned out. "He reminds me of Jamie Carragher in a lot of ways. I don't think you would judge Jon in terms of ability or skill, but he is all about heart, desire, determination and fighting for the cause" said the Liverpool skipper.
A host of favourable results around the league in the last couple of weeks have certainly helped the Reds cause, but as the festive fixture list approaches, a number of high profile matches sit on the horizon and with the inexperienced Flanagan surely to be targeted by the opposition, the Kop will be looking for some more Carragheresque performances.