Kolo Toure Holds Manchester City Grudge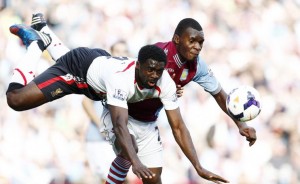 Kolo Toure sure does like to talk; in the build-up to Liverpool's 2-0 loss to former club Arsenal, the Big Ivorian had a lot to say about the North London side that he spent seven years at and, despite assertions to the contrary, made the trip to the Emirates with a point to prove to Gunners manager Arsene Wenger.
Although the defender insisted that "getting those three points" was all he was focused on, it sounded like he also had a personal agenda. "I'll definitely try to do my best to show them that I'm still a great player," said Toure in the buildup to the match. Now, there's nothing wrong with players talking about their old teams, but with Liverpool's first meeting of the season with mega-rich Manchester City just over a month away, the Ivorian has started the trash talking just a tad bit too soon.
The decision to allow Toure to leave the Etihad Stadium was probably made before during the summer was probably made before new City boss Manuel Pellegrini took over, but the defender still harbours some resentment. Though he had a wealth of options available to him, the big man popped up on Merseyside on a free transfer on the day the window opened, and after earning the affections of the Kop, he's now being touted as a coup by Liverpool manager Brendan Rodgers. At the time he might have been seen as a stop gap signing to plug the experience hole in a relatively young squad left by Jamie Carragher's retirement, but his early season performances have shown that the seasoned centerback can still play a key role in our campaign; and it's that form that he believes Manchester City will be ruing.
"Before I left the club I told the people in charge that they would regret letting me go. People said I was finished and that I could never get back to my former level" said the Ivorian defender. "But now I am at Liverpool and I am sure that City must be kicking themselves when they see how I am performing." On the back of his performances in the famous Red shirt, Toure recently earned himself a recall to the Ivory Coast national team and was a key component in the team that just recently sealed qualification for next summer's World Cup.
Toure may have pulled some of his punches when he was talking about Arsenal, but the Citizens don't appear to hold the same kind of place in his heart – hopefully, his little rant doesn't come back to haunt us. We did end up losing to the Gunners, didn't we?