Sterling Wants Six Points at Anfield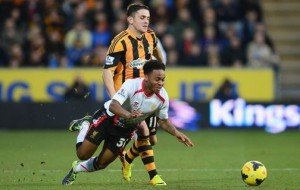 On the back of yesterday's embarrassing 3-1 loss to Hull City, there are lots of questions floating around in the air about how Liverpool boss Brendan Rodgers will pull the team out of the mire and get them back on track for the all important Festive Fixture list. While the boss might be scratching his head looking for solutions, 18-year old Raheem Sterling knows exactly what he wants: six points from the next two games.
The Reds barely have time to blink before they have another shot at making things right and when Norwich City come to visit on Wednesday night, Sterling wants to see an immediate response. "In these back-to-back games at home, hopefully we can go out there and get the six points that we need to get right back where we need to be." With the race for Champions League football next season as tight as it's ever been, the smallest of slips are being magnified – something we saw play out on Sunday.
Brendan Rodgers side went into the weekend within shouting distance of league leaders Arsenal, but tumbled to 4th place in the table following their disappointing performance at the KC Stadium. Sterling, who was a surprise recall to the side following the shock injury to Daniel Sturridge, put in a somewhat patchy performance following a serious derth of minutes this season, but he hardly did worse than many of the more seasoned players that regularly make up the starting line-up.
With Sturridge out until mid-January and playmaker Philippe Coutinho questionable, Sterling has recognized that this is his chance to impress and possibly get back in the managers first team plans. "I'm not happy that Daniel has got injured, but I've got to step up to the plate if I get called and hopefully do well for the team" said the 18-year old. Getting back to winning ways on Wednesday would be a good start – we'll take this one match, and one drink, at a time.