Liverpool (4) West Ham United (1): Reds Back into Second Following Hammers Win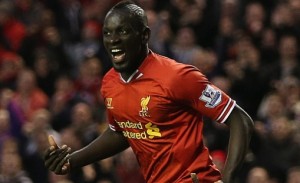 There's no easy matches in the Premier League, and if any day was perfect proof, it was yesterday; Manchester United lost to Newcastle at home, Manchester City dropped points to surprise package Southampton and Chelsea went down 3-2 to Stoke City courtesy of a Oussama Assaidi strike. Liverpool, though? Well, we're just cruising aren't we?
Coming off a 5-1 thrashing of Norwich City midweek, the Reds went into the meeting with West Ham United firmly in the drivers seat — Sam Allardyce hasn't pulled three-points in next to forever and he wasn't about to win at Anfield. It was a bit scruffy at points when compared to the masterclass we saw midweek, but no one is about to complain about the win as Liverpool reclaim second place in the league table.
The 3-1 win to Hull City last Sunday left a nasty taste in the mouth, but Luis Suarez was able to wash that away single-handedly with a 4 goal display against Norwich City on Wednesday. Despite the good well generated by the scoreline, the result was paper over some very glaring cracks in the side — ones that we saw exploited more than once by West Ham United yesterday.
West Ham United striker Modibo Maiga went close twice in the opening exchanges; a cute through-ball from the impressive Mohamed Diame went begging when the Malian failed to make contact and then a show-stopping save from Reds 'keeper Simon Mignolet left the striker furious after a powerful header looked like it was going to put the visitors ahead. Unfortunately for them, Liverpool wasn't in a forgiving mode.
Suarez and Raheem Sterling, who hung onto his spot in the starting eleven after scoring midweek, both went close with gilt-edged chances before an own goal — the first of three in the match — sent the hosts into the break in the lead. It all started with Joe Allen harrying Kevin Nolan into a loss of possession before Suarez, unsurprisingly, played the catalyst with his shot across Hammers 'keeper Jussi Jaaskelainen punched away, only for it to hit defender Guy Demel and sneak over the line.
The Reds found themselves 2-0 up not long after the break when Mamadou Sakho — standing in for the ill Daniel Agger — scuffing a toe-poked ball from Steven Gerrard's free-kick over the line. It wasn't quite a 40-yard thunderbolt or a audacious volley, but Anfield was rocking nonetheless; that is, until a consolation from the visitors evoked a feeling of deja-vu.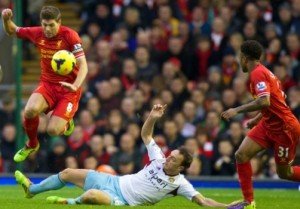 In the build-up, it was pretty much all Liverpool; Suarez headed straight at Jaaskelainen, Steven Gerrard had a pop, Philippe Coutinho — easily one of the Reds best players on the day — forced the Finn into a diving save and Raheem Sterling was unlucky not to net his second in as many games following good work from the Brazilian and Jordan Henderson, but Liverpool had a double blow on the way.
First, the Captain pulled-up with a hamstring problem to be replaced by Lucas in the 56th minute, and ten minutes later, Martin Skrtel gave the visitors a twinge of hope when he scored his second own goal of the week when he directed a Matt Jarvis header past a stranded Mignolet — if it wasn't for the Slovakian ultimately putting the ball in the net, it would have a stirring reproduction of Norwich's consolation on Wednesday. All of a sudden, three points weren't quite as assured and Maiga almost had the equalizer — as well as vindication for first half misses — minutes later, but his close range shot went wide.
If Liverpool were supposed to be shaken by the loss of the Captain and the own goal, it hardly showed. With Lucas — who was ultimately culpable for conceding possession in the build-up to the own goal — and the impressive Joe Allen imposing their will on the midfield, insurance was on its way. It might have taken fifteen nail biting minutes, but when Coutinho switched the run of play over to Glen Johnson, the former Hammer sent in a cross that Suarez wasn't ever going to miss. The Uruguayan's bullet header put the Reds back on stable ground, and Kevin Nolan's straight red card for an ugly "tackle" on Jordan Henderson, set proceedings up perfectly for Suarez to cause yet another own-goal with the striker's shot taking a heavy deflection off Joey O'Brien before finding the back of the net.
So, it's six points from a possible nine on offer this week and Brendan Rodger's side go into a run of tough matches with momentum on their side. We're back into second place, and considering it's the beginning of December, we're in an enviable spot that few would have predicted we'd be in when the campaign opened in August. We've got a run of tough matches on the horizon, but considering the results today, there's no doubt that we can navigate them. We've got problems, but evidently, so does everyone else.
–Steven
That was a weird one; you must have some thoughts on it. Let us know in the comments or on Twitter or Facebook.